After two long years of intensive research, Light My Fire, best known perhaps for its range of Sporks, realised its ambition of using only biobased plastics for the production of its premium-quality colourful outdoor products.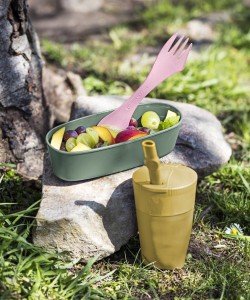 As of January 2019, the company's entire product line has transitioned to biobased plastics, featuring a new palette of warm and soft colors inspired by nature. Derived from renewable crops including corn, sugar cane and tree cellulose, biobased plastics provide a way to effectively bypass the oil industry while providing a product with the same awesome properties of regular plastic.
"We're always looking to use the most sustainable raw materials," says Calill Odqvist Jagusch, CEO of Light My Fire of Sweden. "By experimenting with various biobased plastics, we've found a solution that meets our sustainability objectives while not compromising on our product's functionality and durability."
Biobased plastics are still in their infancy, and as they continue to blaze trail LMF wants to share its knowledge and be as transparent as possible. To this end, LMF has prepared a "Little School of Plastic" mini-tutorial and a fully transparent overview of all their product materials and suppliers in "Let's Talk Materials," both found on their website.
Plastic pollution in nature is a tragedy – and with proper recycling and behavioral changes, it's completely avoidable. Much of plastic pollution currently consists of single-use items like plastic straws, forks and packaging, and until recycling becomes widespread single-use items really have no place in a sustainable world.
"Products like our ReStraw, Pack-up-Cup and Spork are in fact durable, reusable replacements of many of these single-use items," explains Calill Odqvist Jagusch. "However, like most other brands, we've used single-use plastics in our packaging. Moving forward, this year we plan to remove single-use plastics in all our packaging using RE-PET storage bags as well as recycled and recyclable cardboard where needed."
Light My Fire has cooperated with SK Chemicals, of South Korea, Hexpol and FKuR to arrive at the selection of bioplastic materials appropriate for their products, taking issues such as durability and food-contact approvals into account.
Source
Bioplastics MAGAZINE, 2019-04-02.
Supplier
FKuR Kunststoff GmbH
Hexpol TPE
Light My Fire
SK Chemicals

Share