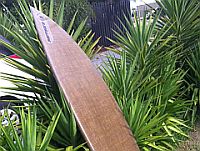 Samsara Surfboards has created a stringerless surfboard using Composites Evolution's Biotex Flax Fabric in the place of standard carbon or glass fibre.
According to Samsara, carbonfibre is currently the surfing industry standard reinforcement for stringerless boards. Jason Wiggers, Owner of Samsara, said "Composites Evolution was referred to me by Carbon Fiber Australia. After looking at the Biotex technical data I was impressed."
…Full Text: http://www.netcomposites.com/news/biotex-flax-fabric-from-composites-evolution-used-to-create-eco-friendly-surfboard/7521
Tags: green surfboard, eco materials, entropy resin
Source
NetComposites, 2012-06-12.
Supplier
Composites Evolution (biotex)
Samsara Surf

Share