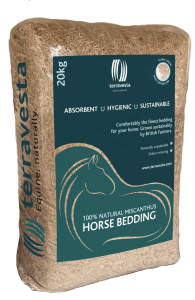 A new super absorbent, highly sustainable Miscanthus horse bedding product launching this June. The premium bedding is made from 100% finely chopped Miscanthus, a carbon negative renewable crop grown on marginal land by British farmers.
Miscanthus specialist Terravesta is behind the launch and says Miscanthus is more absorbent than other bedding products. "It's three times more absorbent than wood shavings, due to the porous pith inside the Miscanthus cane," says David Pattison, commercial manager for Terravesta.
"Miscanthus horse bedding is chemical and additive free and dust extracted, helping horses to breathe more easily.
"It's also cleaner than the competition, naturally carrying less bacteria and it helps to reduce unwanted odours," says David.
Hailed as a 'wonder crop', Miscanthus grass reaches over four-metres tall each year. It absorbs more carbon than it releases in its 20 + year lifetime and stores it in the earth, which helps to alleviate CO2 pollution and reduces the effects of climate change.
Miscanthus is a hardy perennial grass, producing an annual crop, without the need for replanting and it doesn't require any fertiliser or pesticides. It thrives even on the poorest land and enhances biodiversity and soil health.
To discuss wholesale opportunities or to become a customer call or email:
Phone: 07508 949 038
E-Mail: equine@terravesta.com
Source
Terravesta, press release, 2019-06-12.
Supplier
Share