Industry Insights
Global succinic acid market size was estimated at 47.5 kilo tons in 2014. Improving construction and infrastructure in emerging economies of Asia Pacific is expected to trigger demand for resin, coating, and polyurethanes, which in turn is expected to drive industry growth.
The product is used as a building block for the production of polyurethanes, resins, polybutylene succinate (PBS) and plasticizers, as well as a precursor for chemicals such as 1,4 butanediol (BDO). However, crude oil price volatility will affect prices for the product, thus restricting demand. In addition, strong growth in production of bio-succinic acid due to rise in popularity of green products among chemical manufacturers is expected to challenge demand over the next seven years.
Bioderived succinic acid has the potential to replace butane-based maleic anhydride in the manufacturing of a broad spectrum of chemicals such as succinic anhydride, fumaric acid, diethylmaleate, glyoxylic acid, and other plastics. Bio-based products can be used for the manufacture of polymers, which are conventionally produced from butane. Environmental sustainability has encouraged manufacturers to engage in the manufacturing of the bio-based product.
North America succinic acid market volume by application, 2012-2022 (Kilo Tons)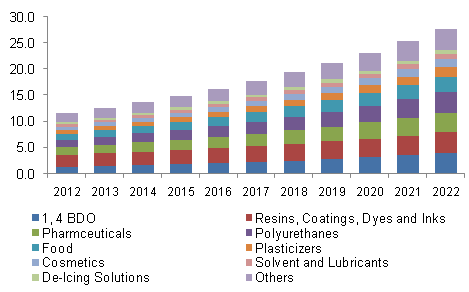 Application Insights
Resins, coatings, dyes, and inks form the largest application segment accounting for over 9.0 kilo tons of the global market in 2014. Rising demand from construction and automotive industry is expected to fuel growth over the forecast period. Improving infrastructure owing to increased government spending in the U.S., India, and China is expected to drive demand for resins, coatings, dyes, and inks over the forecast period thus fueling succinic acid market growth.
Pharmaceuticals were the second largest application segment valued at USD 14.9 million in 2014. Increasing medical tourism in India on account of advanced healthcare facilities coupled with cheap labor is expected to result in high pharmaceutical products need over the forecast period. This in turn will have a positive impact on the product over the next seven years
1,4 butanediol was the fastest growing application segment at a CAGR of over 12.3% in terms of revenue from 2015 to 2022. 1,4 BDO is used in the production of tetrahydrofuran, polybutylene terephthalate, polyurethane elastomers, and gamma-butyrolactone. Increasing need for high performance elastomers, solvents in PVC production, cements, and coatings is expected to propel 1, 4 BDO market over the forecast period.
Regional Insights
Europe dominated the market accounting for over 30.0% of global volume share in 2014. However, the region is expected to witness stagnant demand on account of introduction of bio-based product as a replacement. Stringent regulatory scenario in the European Union owing to implementation of REACH legislation is expected to favor bio-based substitutes over the forecast period.
Asia Pacific market was valued over USD 36.0 million in 2014. The region is expected to witness high demand for the product on account of relaxed regulatory environment in countries including India and China. Rising need from applications such as 1,4 BDO, polyurethanes, cosmetics, plasticizers, food, and pharmaceuticals is expected to propel growth over the next seven years.
Competitive Insights
BioAmber has been one of the largest product manufacturers. Other well known producers include; Anqing Hexing Chemical Co. Ltd., Reverdia, Gadiv Petrochemical Industries Ltd., Kawasaki Kasei Chemicals, Myriant Corporation, Showa Denko K.K., Succinity GmbH, and Nippon Shokubai Co., Ltd.
There is moderate level of integration from manufacturers. Several manufacturers are involved in direct supply of the product and its captive consumption for various applications. There is moderate degree of backward integration from manufacturers to raw material suppliers. Integration across various stages of the value chain is expected to result in continuous raw material supply as well as low production costs.
In August 2015, BioAmber in cooperation with Mitsui & Co., Ltd. announced the opening of its succinic acid plant in Sarnia with a capacity of 30,000 tons. Through this, the companies aim to cater to the rising needs for renewable building block chemicals in global markets. In January 2014, BioAmber announced the start of a new manufacturing plant to produce bio-based BDO with an annual capacity of 100,000 tons in North America by signing take-or pay agreement with Vinmar for land purchase.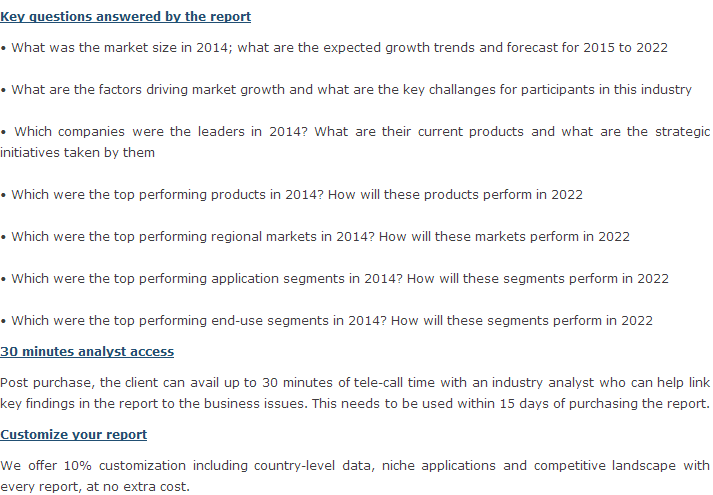 Source
Grand View Research, press release, 2015-10.
Supplier
Anqing Hexing Chemical Co., Ltd.
BioAmber Inc.
Gadiv Petrochemical Industries Ltd.
Grand View Research
Kawasaki Heavy Industries Ltd.
Mitsui & Co., Ltd.
Myriant Technologies LLC
Nippon Shokubai Co., Ltd.
Reverdia
Showa Denko KK
Succinity GmbH

Share