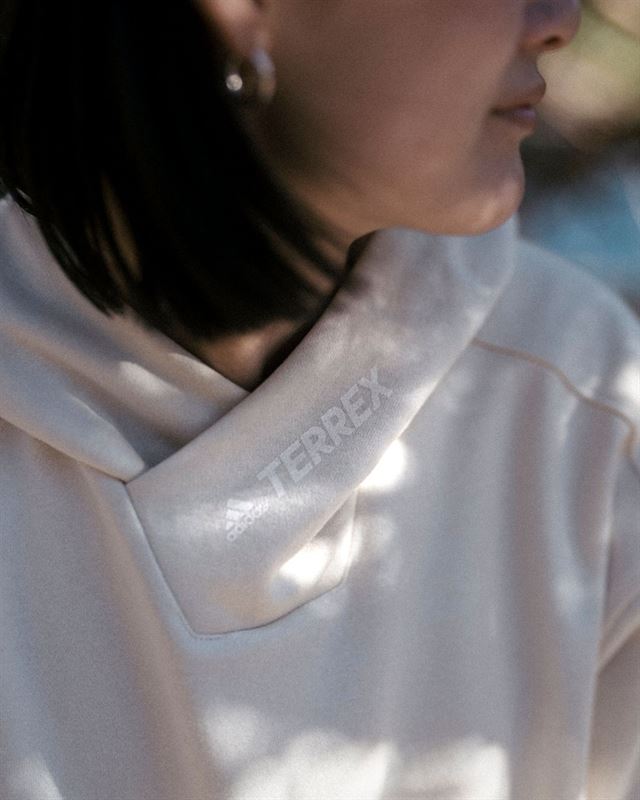 Spinnova and adidas today introduce the all-new hoodie, TERREX HS[1], the first adidas product made with the sustainable SPINNOVA[® ]material. This announcement marks an important milestone in SPINNOVA[®] materials becoming available for consumers globally.
Eight months after announcing their partnership, Spinnova and adidas have unveiled the first adidas product made with SPINNOVA® fibres. Composed of a minimum of 25% wood-based fibres and organic cotton, the adidas TERREX HS1 is a mid-layer knit for hikers that sees adidas exploring a more sustainable textile solution. Working with the material's natural colour, the hoodie is made without dyeing or bleaching chemicals.
A limited number of the TERREX HS1 will be made commercially available on adidas.com and in other selected retail outlets with global reach from July, marking a significant milestone in Spinnova's market entry.

– Spinnova is on a mission to transform the raw material base of the global textile industry by providing radically sustainable and high-performance textile materials. We are very proud of the revolutionary results our teams have accomplished together. Today's launch is a major milestone on our joint commercial journey, says Spinnova's CEO and co-founder Janne Poranen.
Spinnova's first commercial-scale factory is expected to be completed in Finland at the end of this year. Spinnova and its Woodspin joint venture partner Suzano have a scaling target of a million tonnes of global fibre production capacity per annum within the next 10-12 years.
As part of ensuring access to future volumes of SPINNOVA®, adidas became a cornerstone investor in Spinnova's initial public offering last June.

– Using SPINNOVA® fibres will allow adidas to make high-performance apparel while reducing the CO2 emissions, water consumption and waste usually required to create such products. The TERREX HS1 is a major step on adidas's journey to create nine out of 10 articles with a sustainable technology, materials, design or manufacturing method by 2025, says Carla Murphy, General Manager of adidas TERREX.
SPINNOVA® is a circular textile fibre made of sustainably sourced wood, without harmful chemicals. It produces 65% less CO2 emissions and uses 99% less water than cotton production and contains zero microplastics.
Although significant in terms of Spinnova's commercialization, this launch will not have a material impact on Spinnova's financial performance in 2022, when the majority of revenues are expected to come from technology sales to its joint ventures.
Source
Spinnova, press release, 2022-02-10.
Supplier
Share
Renewable Carbon News – Daily Newsletter
Subscribe to our daily email newsletter – the world's leading newsletter on renewable materials and chemicals