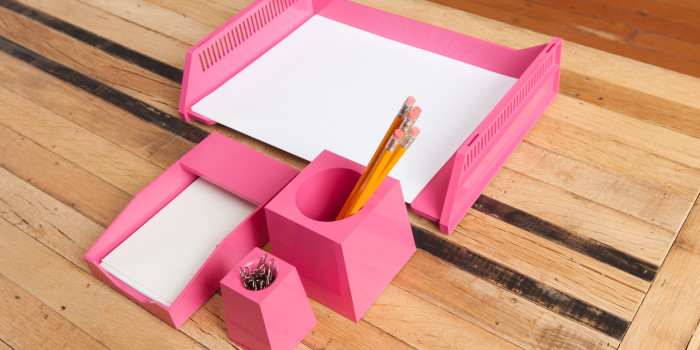 Solegear Bioplastic Technologies Inc. (TSX.V – SGB) ("Solegear") announced today that it has finalized a Supplier and Exclusivity Agreement (the "Agreement") with Columbia Plastics Ltd. ("Columbia") to acquire its TOPS Products Canada book of business for office products. The office products will be made using Solegear's proprietary plant-based bioplastic and are forecasted to generate 20,000 to 60,000 units of sales for Solegear in the 2016 calendar year.  This corresponds with a follow-on purchase order received from TOPS Products Canada bringing the year-to-date total sales to 10,000 units.
The Agreement provides Solegear with the exclusive rights to produce and distribute Clip-Mate™, Memo-Mate™, File-Mate™, Pencil-Mate™, Self-Stacker and Desk Tray office accessory products in Canada and United States through retail and commercial channels. As consideration, Columbia will receive 125,000 common shares of Solegear (the "Shares"), subject to an 18-month escrow.  The Company has received conditional approval of the transaction from TSX Venture Exchange (the "TSXV"), and upon receipt of final approval from the TSXV, the Shares will be issued to Columbia.
"This Agreement marks a significant milestone in Solegear's growth plans to acquire books of businesses where the finished products and packaging can be made with our proprietary bioplastics," said Paul Antoniadis, CEO of Solegear. "Building on our existing partnership with Columbia, we're now able to further align our collective interests in providing sustainable alternatives to traditional materials in relevant consumer goods industries."
About Solegear Bioplastic Technologies Inc.
Solegear Bioplastic Technologies Inc. (TSX-V:SGB) is an innovator in the field of next generation bioplastics made from annually renewable plant-based sources. Committed to the principles of Green Chemistry, Solegear is driven by its mission to create healthier, safer and stronger communities by fundamentally changing the way plastics are made.
Solegear's proprietary bioplastic formulations, Polysole® and Traverse®, are designed to meet today's social and corporate requirements to lower carbon emissions, reduce waste and remove toxicity typically associated with traditional petroleum-based plastics. Together with its partners, Solegear custom engineers, produces and distributes its high-performance bioplastics as resin, sheets and finished goods with some of the highest percentages of renewable, plant-based materials currently available in the industry.
About Columbia Plastics Ltd.
Columbia Plastics, based in Surrey, British Columbia, is a custom injection molder that has been in business since 1945. The company provides high performance manufacturing solutions for a variety of industries and markets. Services provided in addition to molding include design, tooling, assembly, decorating, and packaging. All processes are ISO certified to either the 9001:2008 or 13485:2003 standards
Source
Solegear, press release, 2015-12-03.
Supplier
Columbia Plastics Ltd
Solegear Bioplastics Inc.

Share