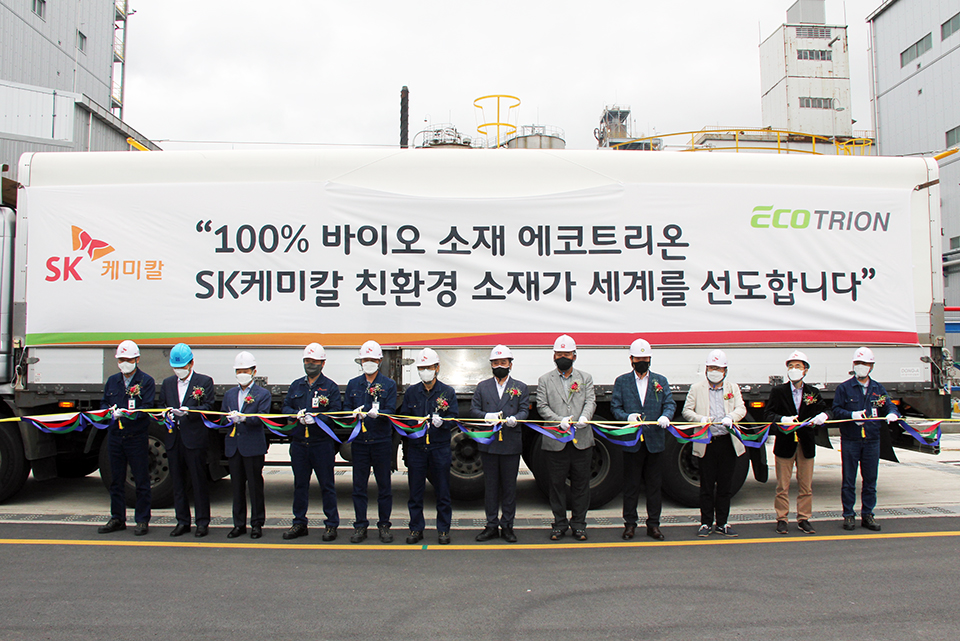 Full-scale supply of high-performance polyol ECOTRION, which offers a 40% reduction in carbon emission with 100% plant-based raw materials
Leading the eco-friendly material market by providing materials like artificial leather for automobiles, sneakers, fashion, and furniture
SK chemicals (CEO Jeon Kwang-hyun) announced on the 2nd that it had built a mass production system with a scale of several thousand tons and that it has started the operation of a facility exclusively for PO3G for new biopolyol material "PO3G" (polyoxytrimethylene ether glycol). The brand name of this material is ECOTRION. Last month, SK chemicals unveiled its strategy to expand operations as a "green material" company with biomaterials in the chemical business as one of its growth engines in its Financial Story. Starting with operations at the recently completed PO3G Unit 1, the company will continue to expand its business in the field of biomaterials.
Polyol is a type of alcohol and is an essential raw material used to manufacture spandex, polyurethane (artificial leather, foam, etc.) and urethane elastomer. SK chemicals' ECOTRION is a 100% biomaterial-based eco-friendly material made by fermenting plants as raw materials and can replace existing petrochemical-based polyols. ECOTRION has received eco-friendly certification from the US Department of Agriculture (USDA) and Belgian VINCOTTE and offers several advantages like being softer than existing materials when applied to textiles and artificial leather and improved elasticity and abrasion resistance, making it comfortable to wear and less prone to product deformation. Also, evaluation of the life-cycle assessment (LCA) reveals a 40% reduction in greenhouse gas emissions from ECOTRION compared to the existing petrochemical-based polyol production process.
SK chemicals is accelerating its entry into markets such as artificial leather, sneakers, fashion, and furniture by promoting the excellent chemical resistance and eco-friendliness of the green material, ECOTRION. Rapid growth is expected as the demand for eco-friendly materials in the automobile, sports, and fashion industries is rapidly increasing in response to global environmental regulations and increased interest in complying with ESG management declarations. Hyundai Motor's Basic Materials Research Center has already collaborated with SK chemicals and LX Hausys to develop eco-friendly artificial leather, and through this, Hyundai Motor and Kia have developed artificial leather (LX Hausys production) using SK chemicals' ECOTRION and applied it to the Genesis GV60 seats, and are considering it to other models.
Jung Jae-jun, head of SK chemicals new business development department said, "The white bio-industry is growing rapidly along with domestic and foreign policies for building a sustainable society through carbon reduction, such as greenhouse gas reduction and environmental paradigm change through de-petrolization," and said, "We plan to further strengthen the green business system based on ESG management with the eco-friendly material business and consider additional expansion in response to increasing market demand."
Source
SK Chemicals, press release, 2022-05-09.
Supplier
Hyundai
Kia Motors
LX Hausys
SK Chemicals
US Department of Agriculture (USDA)
Vinçotte International

Share