One way to overcome the chemical industry's dependence on fossil fuels is to replace oil and gas with renewable carbon within the existing structures of the chemical industry. But it applies also innovation, the development of new processes, building blocks and materials. This requires rethinking of chemistry and materials. Ready-to-use fossil-free sustainable material solutions with a low carbon footprint are in fast-growing demand. Innovative brand owners are keeping an eye out for such solutions, in particular those that will soon reach the mainstream.

With the innovation award "Renewable Material of the Year 2022", nova-Institute (organiser) and Covestro (sponsor) would like to award three particularly exciting and promising solutions that contribute to replacing fossil carbon from the ground. Innovations could be submitted until March 15th , and 31 were received. The Advisory Board and the nova-experts had some trouble selecting the six most exciting ones and nominating them for the award. Learn more about the six nominees in the picture and the innovation brochure "Renewable Material of the Year 2022".
Six "Renewable Material of the Year 2022" Nominees:

Borregaard (NO) – Exilva® fibrillated cellulose, Eastman (US) – Material-to-Material Molecular Recycling Technologies, Lactips (FR) – Plastic Free PaperTM with CareTips® – a Natural Polymer to Rethink Plastic, Origin Materials (US) – Technology Platform for Producing Carbon Negative PET, Twelve Benefit Corporation (US) – Electrochemical CO2 Transformation to Chemicals and Materials and VERBIO Vereinigte BioEnergie (DE) – VerBioChem Ethenolyis Platform for Renewable Chemicals.
The innovation award is one of the highlights of the "Renewable Materials Conference", 10th-12th May in Cologne (Germany), with 60 confirmed speakers and more than 400 expected participants. On the second conference-day, the nominated companies will present their products and all conference participants, on site and online, will vote for the three winners. This exciting competition will be decided by the participants themselves.
All information and registration are available at: www.renewable-materials.eu
The nova-Institute would like to thank the innovation award Sponsor Covestro (DE) and Premium Partner CLIB (DE) for their support. Many thanks also to all Gold Sponsors Alfalaval (SE), Avantium (NL), Henkel (DE), GS Biotech (CN), IFF (US), Neste (FI), UPM Biochemicals (FI), Sorona (NL) and Sugar Energy (CN), Silver Sponsors FKUR (DE), Renolit (DE) and Suncoal (DE) and last but not least Bronze Sponsor Cargill (US).
Find all nova press releases, visuals and more free-for-press purposes at
www.nova-institute.eu/press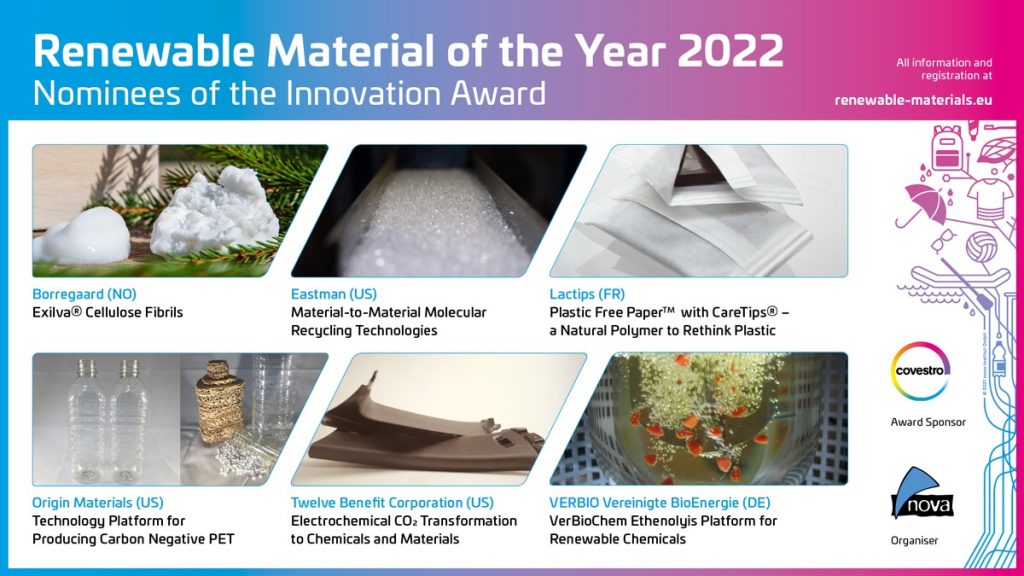 Source
nova-Institut GmbH, presse release, 2022-04-13
Supplier
Alfa Laval
Avantium Technologies B.V.
Borregaard
Cargill, Inc.
Covestro AG
Eastman Chemical Company
FKuR Kunststoff GmbH
Henkel KGaA
IFF: International Flavors & Fragrances Inc.
Lactips
Neste Corporation
Origin Materials
RENOLIT SE
Sorona
SUGAR ENERGY
SunCoal Industries GmbH
Twelve Benefit Corporation
UPM Corporation

Share
Renewable Carbon News – Daily Newsletter
Subscribe to our daily email newsletter – the world's leading newsletter on renewable materials and chemicals