Sirmax SpA, an Italy-based compounder pursuing a strategy of geographical and portfolio diversification, has purchased a 70% stake in Italian compounder and masterbatch producer Microtec SRL.
The acquisition of Microtec is part of an investment plan that will see Sirmax investing 80 million euros over the next three years, net of external investments and subsidies. The goal is a doubling of sales from EUR 300 million to EUR 600 million by 2023.
The company first moved into post-consumer recycling, with the January acquisition of Società Europea di Rigenerazione (SER), located in the province of Parma, which took place in January. This was followed by the construction of a new recycling plant in the United States, in the state of Indiana.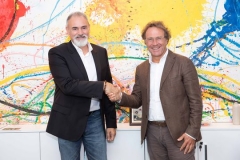 Microtec, a company based in Mellaredo di Pianiga (VE), specialises in the formulation of masterbatches and biobased and compostable compounds for flexible bags and packaging. Founded in 2012 by Diego Lombardo, the company has developed compound formulations for biopolymers based on starch, copolyesters (PBAT) and, more recently, also on polylactic acid (PLA). Today, the company employs 20 people and boasts a turnover of 19 million euros.
Sirmax will invest 20 million euros in the construction of a new production hall. Two new Coperion lines will be installed, joining the four already in operation and doubling production capacity from the current 8,000 to 16,000 tons per year. However, the new plant will be designed to be able to accommodate up to ten compounding lines, with a potential production capacity of 40,000 tons per year, if the demand for biopolymers rises.
Sirmax Group president and CEO, Massimo Pavin emphasised the synergies between the two companies. Microtec's knowhow in the bioplastics space will promote the development of biobased materials for the traditional application sectors of Sirmax, such as the automotive and home appliance sectors, he said. He also pointed to new European legislation of single use plastics starting from 2021: "the objective is to respond to new market needs by identifying innovative solutions from the perspective of the circular economy."
Source
Bioplastics MAGAZINE, 2019-10-03.
Supplier
Coperion
Microtec SRL
Sirmax S.p.A.

Share