Silvergate Plastics, the UK's largest independent manufacturer of colour masterbatch, has joined forces with Floreon-Transforming Packaging Limited, the pioneers of an advanced and versatile bioplastic formulation.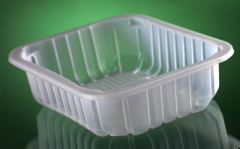 Floreon was born out of a need for a greener, safer form of plastic. Working in partnership with the University of Sheffield, Floreon-Transforming Packaging Limited has specifically formulated the compound from renewable plant-based raw materials.
This advanced bioplastic uses polylactic acid (PLA) and a patented combination of additives to create an innovative material designed to outperform both competing bioplastics and conventional plastics, with the added environmental benefit of being renewable and compostable.
The compound has multiple end-of-life options, including commercial composting with food waste, standard mechanical recycling and even feedstock recovery, turning the plastic back into its original building blocks for conversion and virgin polymer with no downcycling or loss of performance.
Significantly, the carbon footprint of producing the PLA base material of Floreon is a fifth of that of oil-based plastics, such as polystyrene.
PLA can be difficult to manufacture yet Floreon's formulation makes the material easier to convert via both extrusion and injection moulding processes.
According to independent testing, when compared to regular PLA, Floreon is four times tougher and offers up to a 40% energy saving in processing whilst maintaining all of its key environmental benefits.
The compound offers high stiffness and rigidity with an excellent surface finish. It has a similar feel to polystyrene and offers a credible alternative for many one-use plastic applications, such as coffee cups, food trays, cutlery and straws.
Following nine years of development, Floreon has been patented in multiple locations worldwide.
Having created an attractive alternative to traditional oil-based plastics, its developers have identified Silvergate Plastics as a suitable manufacturing partner with whom they can realise its potential.
Silvergate can successfully manufacture the Floreon compound, which can be used by any plastics processor. It is easy to blend, mould, shape and emboss, whilst retaining the UV stable and non-allergenic properties of PLA. It is also food contact compliant.
Commenting on the company's decision to produce the compound, CEO of Silvergate Plastics, Tony Bestall said:
"Ever since the BBC aired Blue Planet II and highlighted the growing problem of plastic pollution in the world's seas and oceans, the plastics industry has faced huge criticism with many demanding a ban on certain plastic applications. I do not believe a ban is the answer; pollution is the result of irresponsible activities; plastic is in the oceans because people put it there rather than disposing of it responsibly.
"Instead of a ban, we should be optimising advanced technical solutions, such as Floreon. This plastic compound is made from a sustainable plant-based raw material. In industrial composting, for example, micro-enzymes ultimately feed off the material, transforming it into nothing more than water and carbon dioxide.
According to Dr Andrew Gill, Technical Director of Floreon-Transforming Packaging Limited, nine years of research are starting to reap benefits.
"Floreon has invested heavily over the past nine years in the development of its technology and formulations. With global patent protection and tried and tested bioplastic compounds, we are very excited to be working with Silvergate Plastics to get this technology into the market.
As the demand for bioplastics continues to rise, Silvergate has been actively promoting this technology to its global customer base. Tony continued:
"The response has been fantastic. Our industry does not want to be vilified and we need more innovators to work towards identifying and implementing such sustainable solutions in plastics. Floreon is a highly advanced technology that has tremendous potential. We are very proud to play a part in its history."
Source
Bioplastics MAGAZINE, 2018-09-20.
Supplier
Floreon-Transforming Packaging Ltd
Silvergate Plastics

Share