The ROQUETTE Group, a global player in the processing of plant-based raw materials, was distinguished with an "Eco-design" award for its GAÏALENE® plant-based plastic range at the Annual Sustainable Development and Enterprise Days (JADDE) held at the Lille Chamber of Commerce and Industry from 4 to 5 October last.
This competition organised by the platform [avniR], in association with the CCI Grand Lille, the Nord-Pas de Calais Regional Council and Ademe, rewards the best local initiatives in the field of eco-design. It takes up for the first time in France the original concept developed in 2011 by Novae in Quebec. An independent jury made up of 8 international eco-design experts and representatives of the economic world distinguished GAÏALENE® in the Large Company category.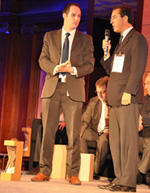 This award rewards ROQUETTE for having adopted an innovative approach for the design of its plant-based plastics. The range that it offers today for plastics technology has reduced impacts on the environment thanks to the judicious choices made for the growing of plants, the method of synthesis, the location of the production facilities and the propensity of the material to be recycled at the end of its life cycle.
"We are particularly proud of this eco-design award which crowns our 5 years of research and development in perfecting an innovative and efficient range of plant-based plastics. During these years we have taken care to put the focus on respecting the environment and satisfying the needs of our industrial customers in order to meet the demand from the consumers for innovative and cleaner products." Léon Mentink, Product Manager at Roquette.
About the 'avniR' platform:
Supported by the CD2E, the purpose of the [avniR] platform is to promote the integration of the Plant-Based Chemistry Association (ACV) in the development initiatives of companies in all sectors of industry. Based in Nord-Pas de Calais but with a national and international dimension, the [avniR] platform works in a collaborative dynamic with industrialists, research laboratories and institutions.
Source
Roquette, press release, 2012-10-30.
Supplier
[avniR]
ADEME
CCI Grand Lille
Nord-Pas de Calais Regional Council
Novae
Roquette

Share