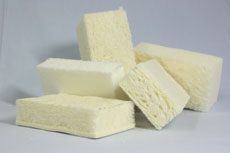 As part of the WoTIM project (Wood-based Thermal Insulation Materials), VTT Technical Research Centre of Finland is developing wood fibre-based insulation materials and sprayable insulation foams with enhanced product features. The new materials will enable mass production of high-quality insulation products, which will replace products made of non-renewable or poorly recyclable raw materials. Use of wood-based material will lower energy consumption at the production stage, as well as reducing the products' carbon footprint.
The Thermal Insulation Manufacturers and Suppliers Association (TIMSA) states that, of the various insulation materials, polyurethane foams have the highest and cellulose insulation materials the lowest environmental impact. From the environmental and sustainability point of view, the use of wood fibre-based insulation products should therefore be increased.
The WoTIM project involves the development of foam technique-based production methods in order to create high-quality wood-based thermal insulation panels and in-situ spray-on insulation materials.
Better thermal insulation, fewer health hazards
The project aims to raise the overall performance of wood-based insulation to the same level as that of polyurethane insulation. The insulation properties of cellulosic materials can be improved by using foam-like structures to create closed-like air pockets in the material.
Because the raw materials of plastic-based in-situ spray-on polyisocyanurates and polyurethanes (PIR and PUR) contain hazardous components, insulation workers must wear protective respirator masks and protect their skin during installation work. In contrast, the spray-on cellulosic foam to be developed by the WoTIM project will involve no health hazards, either during or after its installation.
Within the EU, there are good market opportunities for producers of new insulation materials. Innovative companies in particular tend to be early adopters of new solutions.
The following organisations are participating in the WoTIM project: VTT, Stora Enso, Ekovilla, Neovo Solutions and Interenergy from Finland, Innventia and Holmen from Sweden and Soprema and FCBA from France. The project is being coordinated by Senior Scientist Petri Jetsu of VTT and it has a total budget of EUR 1.46 million for the project period 1 January 2014–31 December 2016. Finland's contribution is funded by the Finnish Funding Agency for Technology and Innovation Tekes and the participating organisations.
Source
VTT Technical Research Centre of Finland, press release, 2014-09-16.
Supplier
Ekovilla
Faurecia
FCBA
Holmen
Innventia
Interenergy
Neovo Solutions
SOPREMA Group
Stora Enso
Tejidos Royo
Tekes - Finnish Funding Agency for Technology and Innovation

Share