Launched in September 2020, the Renewable Carbon Initiative (RCI) is firing up a flurry of activities, all with two goals: Firstly, to raise awareness of the renewable carbon concept and to anchor it in the political discourse. Secondly, to create new value and supply chains based on renewable carbon, i.e. bio-based, CO2-based and recycled carbon sources that have one thing in common: Abandonment of fossil carbon.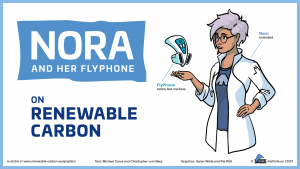 In the comic "Nora and her FlyPhone on Renewable Carbon" (available at https://renewable-carbon-initiative.com/media/library/), the concept is vividly illustrated in just a few pictures. The format works perfectly for traditional and social media and resonates with business and public networks
For all those who want to know more, there is now a glossary of important terms of the renewable carbon concept on the initiative's website (www.renewable-carbon-initiative.com).
A deep dive into the business side offer videos published on YouTube. Here, chemical recycling SME BioBTX (The Netherlands) speciality chemicals leader Stahl (The Netherlands) and private research institute nova-Institute (Germany) give insight into the strategies of the RCI members. The interviews are the first in a series that will allow each member to present their unique take on the matter. More will be available soon at https://www.youtube.com/channel/UCyYmD4O6aGH5akqpxHzAqxQ/videos
Source
Renewable Carbon Initiative (RCI), press release, 2021-05-11.
Supplier
BioBTX
nova-Institut GmbH
Renewable Carbon Initiative (RCI)
Stahl International BV

Share
Renewable Carbon News – Daily Newsletter
Subscribe to our daily email newsletter – the world's leading newsletter on renewable materials and chemicals