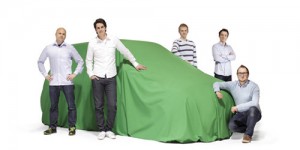 The Biofore Concept Car, a unique, futuristic street-legal vehicle demonstrating the use of renewable biomaterials in the automotive industry, will premiere at the 84th Geneva International Motor Show, March 6-16, 2014. The car is designed and built by next generation of talent from Helsinki Metropolia University of Applied Sciences and showcases the versatile use of UPM's innovative biomaterials.
Various parts and components traditionally made from plastic are made from UPM Formi biocomposite and UPM Grada thermoformable wood material. These materials will significantly improve the overall environmental performance of the car, without compromising quality or safety. The concept car will also be fuelled by UPM BioVerno wood-based renewable diesel. UPM Raflatac label materials will be used to mark spare parts as well as in the interior and exterior design of the car.
Dating back to March 2010, initial idea of the Biofore Concept Car originated from UPM's will to demonstrate the diversity of end-uses for the company's biobased renewable materials. Helsinki Metropolia University of Applied Sciences, with their history of building concept cars, was a natural choice as partner. "We are proud that the four year-long journey, during which altogether 50 young talents have been part of this process, is now reaching its peak on such an important venue for the automotive industry," says Pekka Hautala, Project Director from Metropolia.
"The Biofore Concept Car is a fine manifestation of UPM's Biofore thinking. It highlights our commitment to sustainable innovations, renewing with courage and cooperation with future talents," states Elisa Nilsson, Vice President of brand and communications from UPM.
UPM and Metropolia welcome media to the Biofore Concept Car world premiere in Geneva on March 4th at 15:15-15:30 CET at stand 6438.
Source
UPM, press release, 2014-02-20.
Supplier
Helsinki Metropolia University of Applied Sciences
UPM Corporation

Share