Our readers will be well aware that many new projects have been announced in recent years, and it may seem that Finland is over represented in bioeconomy ventures. In this month's Newsletter, Professor Olli Dahl presents a list of all the main investments and their products, and considers whether the country's forest resources can cope with so much new potential capacity in the forest industry sector.
Like other countries in the western hemisphere, Finland faced recession and an ensuing drought in forest related investments in the early 2000's. For decades Finland had favoured high investment rates in forest based investments, but as paper consumption started to decline and other regions emerge (like Latin America and China) the tendency was to close operations down rather than construct new ones.
Are we now however looking at a renaissance in Finish forest related investments? During the past three years there have been interesting evolving stories not only by existing players but new ventures run by new companies. Such start-ups are totally new phenomena in this field. The following is an overview of investments, planned as well as decided, in Finland.
What kind of investments are planned and what are the products? The traditional players seem to be investing in capacity increases in existing mills, the Äänekoski bioproducts mill being the exception. A new pulp production line, although not a greenfield mill as such (it replaces an old pulp mill with something three times bigger), with fairly traditional products. In Table 1 below, all significant projects in the current Finnish pipeline are outlined.
Table 1. Finland's new and pending forest related projects: Planned investments, capacity increase projects and their main product portfolios.
Does Finland have enough forest for the new investments?
As illustrated in the map below (Fig.1), three planned greenfield investments are located in areas without existing biorefineries, while the rest must compete for raw material with existing players.
As seen in Table 1, most investments will utilise northern pine. Entirely new fiber products will be produced in Imatra (MCF), Kemijärvi (AaltoCell™) and Paltamo (Arbron™). Biofuels are planned for three sites: Kajaani, Kouvola and Kemi. NEB Ltd. will use sawdust and SEB local straw as a raw material, thus avoiding having to compete with others for raw material. However, Kaidi's biorefinery intended for Kemi would be surrounded by quite a number of wood processing mills and plants, and it seems the plans call for maximum use of forest residuals and woodchips to keep sourcing costs down. Total increase of annual wood consumption due to new investment seems to be about 20 million cubic metres in Finland.
According to LUKE (Finnish Natural Resources Institute), the annual growth of trees in Finland exceeds the volume of felling and natural loss by over 20 million cubic metres. The age profile of our forests is developing in a manner that makes for an annual sustainable harvesting in excess of 80 million cubic metres of stem wood in the next few decades, whereas the number in recent years have been in the 60 – 65 million cubic metre range. In a nutshell: Finland's sustainable annual forest growth can sustain all the pending projects, but regional competition may cause cost pressure for some players.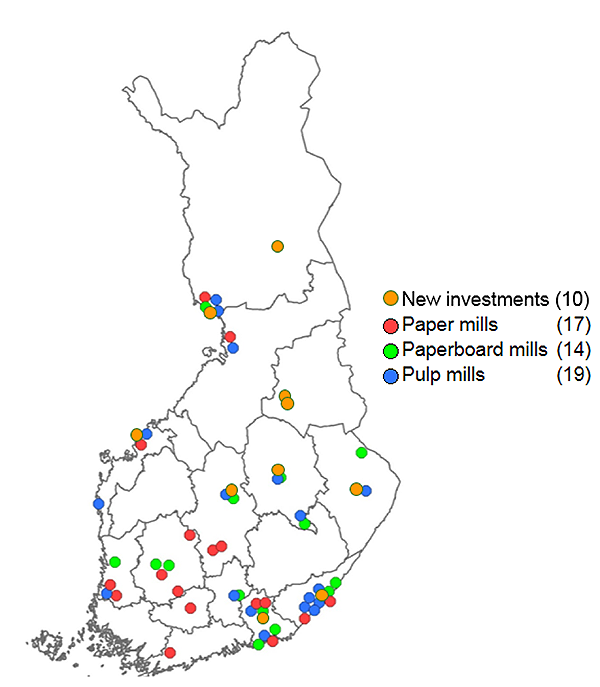 Effects of new investments Finland's foreign trade
A complicate issue. It can be roughly estimates using the conservative price of chemical pulp (NBSK, BHKP, MCC and dissolving pulp) at about 500 €/ton. If all new pulp capacity is exported, we get the following estimation (3431.5 kton x 500 €) or about 1.7 billion euros per year. If all biofuels were to be sold abroad (price 1.6 €/litre) the effect is an additional 0.5 billion euros per year. Thus all the planned investments combined would generate foreign trade of about 2.2 billion euros annually.
Source
NC Partnering Newsletter, 10-2017.
Supplier
Natural Resources Institute Finland
NC Partnering Ltd
New England Biolabs (NEB)

Share