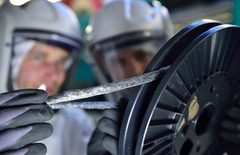 The Saxon Textile Research Institute (STFI) presents its innovations at joint booth "Sachsen live" of the Sächsische Wirtschaftsförderung during JEC World in Paris. Resource efficiency will be in the spot of STFI's presentation. In addition to recyclable bio based composites for automotive industry the institute will show its latest concepts on recycling of carbon fibres. Furthermore, textile spacer fabrics used as sandwich core with excellent 3D-drapability and high energy absorption during crash will be presented. Also STFI will inform visitors about the current building activities at STFI to establish the Center for Textile Lightweight Construction. With this, the fundamentals for the developement of new technologies in this research field are provided.
Recyclable bio based composites for automotive industry
The reycling of composites made of different materials is a challenge especially for automotive industry. An approach is the use of pure/unmixed materials. In the project BIOFIBROCAR nine European research partners aim to substitute polyester and polypropylene fibres currently applied in car interior by PLA fibres. Special additives lead to defined improvements of properties like abrasion resistance, light fastness or flame retardancy which are of great importance with respect to the materials parameter required by the car industry. PLA fibres with specifically adjusted melting points allow furthermore an application of technologies generally used in the production of moulded components.
Sliver from reprocessed carbon staple fibres for lightweight structures
The rapidly increasing use of carbon fibre reinforced plastics (CFRP) in lightweight structures is leading to a wide range of production waste. To reprocess and recycle such kind of waste, nonwovens made of recycled carbon staple fibers and processed by carding technology have been successfully developed at STFI. First research results included the formation of a web from 100% carbon fibre or blends with other staple fibers and a subsequent inline bonding of the textile fabrics.
With more than 100 countries represented JEC World has become the largest international show of the composite industry. Visit us in Paris Nord Villepinte in Hall 5a, Booth C77 from March 8th-10th, 2016.
Author
Kareen Reißmann
Source
STFI, press release, 2016-01-28.
Supplier
JEC Composites
Sächsisches Textilforschungsinstitut e.V.

Share