In a paper to be published in an upcoming issue of Energy & Environmental Science (now available online), researchers at the U.S. Department of Energy's Brookhaven National Laboratory describe details of a low-cost, stable, effective catalyst that could replace costly platinum in the production of hydrogen. The catalyst, made from renewable soybeans and abundant molybdenum metal, produces hydrogen in an environmentally friendly, cost-effective manner, potentially increasing the use of this clean energy source.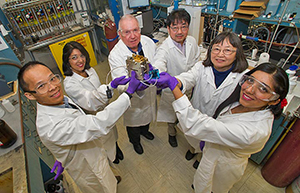 research has already garnered widespread recognition for Shilpa and Shweta Iyer, twin-sister high school students who contributed to the research as part of an internship under the guidance of Brookhaven chemist Wei-Fu Chen, supported by projects led by James Muckerman, Etsuko Fujita, and Kotaro Sasaki.

"This paper reports the 'hard science' from what started as the Iyer twins' research project and has resulted in the best-performing, non-noble-metal-containing hydrogen evolution catalyst yet known – even better than bulk platinum metal," Muckerman said.

The project branches off from the Brookhaven group's research into using sunlight to develop alternative fuels. Their ultimate goal is to find ways to use solar energy – either directly or via electricity generated by solar cells – to convert the end products of hydrocarbon combustion, water and carbon dioxide, back into a carbon-based fuel. Dubbed "artificial photosynthesis," this process mimics how plants convert those same ingredients to energy in the form of sugars. One key step is splitting water, or water electrolysis.

"By splitting liquid water (H2O) into hydrogen and oxygen, the hydrogen can be regenerated as a gas (H2) and used directly as fuel," Sasaki explained. "We sought to fabricate a commercially viable catalyst from earth-abundant materials for application in water electrolysis, and the outcome is indeed superb."

This form of hydrogen production could help the scientists achieve their ultimate goal.

"A very promising route to making a carbon-containing fuel is to hydrogenate carbon dioxide (or carbon monoxide) using solar-produced hydrogen," said Fujita, who leads the artificial photosynthesis group in the Brookhaven Chemistry Department.

But with platinum as the main ingredient in the most effective water-splitting catalysts, the process is currently too costly to be economically viable.

Comsewogue High School students Shweta and Shilpa Iyer entered the lab as the search for a cost-effective replacement was on.

The Brookhaven team had already identified some promising leads with experiments demonstrating the potential effectiveness of low-cost molybdenum paired with carbon, as well as the use of nitrogen to confer some resistance to the corrosive, acidic environment required in proton exchange membrane water electrolysis cells. But these two approaches had not yet been tried together.

The students set out to identify plentiful and inexpensive sources of carbon and nitrogen, and test ways to combine them with a molybdenum salt.

"The students became excited about using familiar materials from their everyday lives to meet a real-world energy challenge," Chen recounted. The team tested a wide variety of sources of biomass – leaves, stems, flowers, seeds, and legumes – with particular interest in those with high protein content because the amino acids that make up proteins are a rich source of nitrogen. High-protein soybeans turned out to be the best.

To make the catalyst the team ground the soybeans into a powder, mixed the powder with ammonium molybdate in water, then dried and heated the samples in the presence of inert argon gas. "A subsequent high temperature treatment (carburization) induced a reaction between molybdenum and the carbon and nitrogen components of the soybeans to produce molybdenum carbides and molybdenum nitrides," Chen explained. "The process is simple, economical, and environmentally friendly."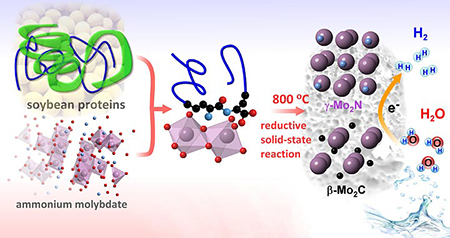 Source

Brookhaven National Laboratory, press release, 2013-04-24.
Supplier
Brookhaven National Laboratory
Center for Functional Nanomaterials (CFN)
Lawrence Berkeley National Laboratory
Los Alamos National Laboratory
National Nanotechnology Initiative
National Synchrotron Light Source (NSLS)
Oak Ridge National Laboratory
Sandia National Laboratories (USA)
US Department of Energy (DoE)
US DOE Office of Science (SC)

Share
Renewable Carbon News – Daily Newsletter
Subscribe to our daily email newsletter – the world's leading newsletter on renewable materials and chemicals