Neste, LyondellBasell, Biofibre and Naftex have created a value chain to combine bio-based polymers with natural fiber for the manufacturing of construction elements. The combination of polymers with measurable bio-based content and natural fiber in construction elements creates carbon storage which can help tackle climate change.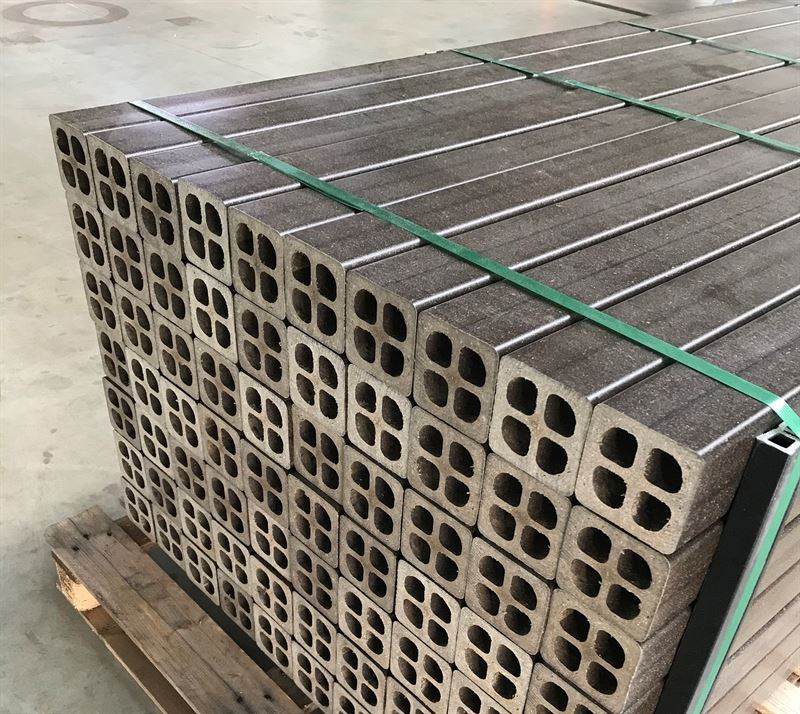 The cooperation sees Neste provide renewable Neste RE™, a feedstock for polymers production made 100% from bio-based materials such as waste and residues, to LyondellBasell. LyondellBasell processes the feedstock into CirculenRenew C14 polypropylene with measurable bio-based content as part of the company's CirculenRenew™ portfolio. The polypropylene is then used by Biofibre to produce natural fiber reinforced plastics granules. In the final step, Naftex extrudes these granules into construction elements such as posts for fences or profiles for terrace deckings.
Enabling more sustainable construction solutions
By combining bio-based polymers with natural fiber, the partners are enabling the production of construction solutions that have a lower carbon footprint. The construction elements serve as a temporary carbon storage: during their use phase of several years or even decades, they can store the carbon that was previously sequestered from the atmosphere during the growth phase of the biomass used in the construction elements. An LCA study created by GreenSurvey for Biofibre confirms that the amount of carbon removed from the atmosphere by the biomass exceeds supply chain emissions from logistics and manufacturing of the reinforced plastics granules.
"It is extremely important that the construction sector continues to develop innovative ways to combat climate change. Renewable solutions such as renewable Neste RE feedstock for polymers can play a major role in that. The long use-phase of construction products results in the creation of a carbon storage: Materials can store carbon taken from the atmosphere, serving as temporary buffers in combating climate change," says Martin Bussmann, Brand Owner Manager at Neste Renewable Polymers and Chemicals. 

"It is part of our company strategy to supply solutions for everyday sustainable living. We are thrilled to see that the construction industry is now increasingly embracing more sustainable solutions," says Roman J. Schulz, Marketing Manager at LyondellBasell. "Our CirculenRenew products that we used for this project have a measurable renewable-based content which can be determined by C14 analysis. They help to reduce fossil feedstock use as well as greenhouse gas emissions over the product life cycle." 

"We have been using natural fiber residues from organic farming for quite a long time. The fibers stem from sources in close proximity to our production site and do not compete with food or feed production. With the introduction of our new product line BioSustra based on bio-based polyolefins we can further increase the bio-based content, lower the carbon footprint and thus contribute to the ecological advantages of our material portfolio. These new grades are particularly interesting for products with a long service life as can be found in the building industry," says Jörg Dörrstein, Managing Director of Biofibre GmbH.

"Since we started to work with the building and construction sector, we have been asked how to further increase the sustainability of products such as profiles or bars. It seems that we had started at quite the right time with the development of lower carbon footprint products since recent inquiries clearly point towards a demand for such products. Today, we are happy to have found a proper solution with Biofibre BioSustra to support our clients to fulfill their corporate goals," Daniel Koopmann, Managing Director of Naftex.
Neste in brief
Neste (NESTE, Nasdaq Helsinki) creates solutions for combating climate change and accelerating a shift to a circular economy. We refine waste, residues and innovative raw materials into renewable fuels and sustainable feedstock for plastics and other materials. We are the world's leading producer of sustainable aviation fuel and renewable diesel and developing chemical recycling to combat the plastic waste challenge. We aim at helping customers to reduce their greenhouse gas emissions with our renewable and circular solutions by at least 20 million tons annually by 2030. Our ambition is to make the Porvoo oil refinery in Finland the most sustainable refinery in Europe by 2030. We are introducing renewable and recycled raw materials such as liquefied waste plastic as refinery raw materials. We are committed to reaching carbon-neutral production by 2035, and we will reduce the carbon emission intensity of sold products by 50% by 2040. We have also set high standards for biodiversity, human rights and supply chain. We have consistently been included in the Dow Jones Sustainability Indices and the Global 100 list of the world's most sustainable companies. In 2022, Neste's revenue stood at EUR 25.7 billion.
About LyondellBasell
We are LyondellBasell – a leader in the global chemical industry creating solutions for everyday sustainable living. Through advanced technology and focused investments, we are enabling a circular and low carbon economy.
Across all we do, we aim to unlock value for our customers, investors and society.
As one of the world's largest producers of polymers and a leader in polyolefin technologies, we develop, manufacture and market high-quality and innovative products for applications ranging from sustainable transportation and food safety to clean water and quality healthcare.
About Biofibre
Biofibre develops and markets thermoplastic biocompound granulates for various applications and industries. Due to strong partnerships throughout the supply chain Biofibre is sourcing sustainable raw materials with measurable environmental friendliness. Wherever possible all raw materials are locally sourced with no direct competition to food and feed. The Biofibre portfolio includes biobased and compostable materials for injection molding, extrusion, 3D-printing, thermoforming and blow molding applications. Biofibre products are frequently ready specified as drop-in solutions with no or few required investments for retooling. Biofibre has more than 10 years of experience in research & development placing customer specific developments by offering expertise and developments on lab-to-serial scale equipment into the center.
About Naftex
Naftex GmbH from the north of Germany is a producer and contract manufacturer for high-quality and innovative beams and profiles containing natural fiber plastic composites (NFPCs) and natural fibre composite granules. Our service includes development, planning and implementation of new products for various industries with a special focus on the construction and building industry.
Source
Neste, press release, 2023-08-29.
Supplier
Biofibre GmbH
GreenSurvey
LyondellBasell Industries
Naftex GmbH
Neste Corporation

Share
Renewable Carbon News – Daily Newsletter
Subscribe to our daily email newsletter – the world's leading newsletter on renewable materials and chemicals