The always highly anticipated innovation award "Bio-based Material of the Year" will be elected online by the participants. Six promising candidates out of 17 applications have been nominated by the advisory board. (www.nova-institute.eu/press/?id=187)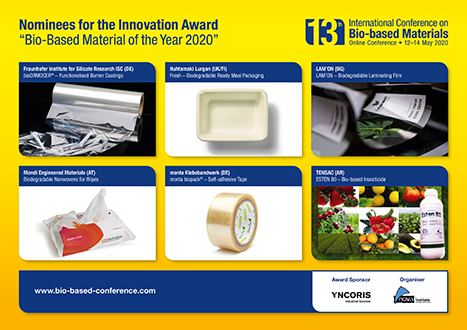 Visuals, PDF files and German version available at: http://nova-institute.eu/press/?id=189
Due to the Corona crisis, this year's conference will unfortunately not be able to take place in its established and appreciated format. But in such uncertain times, the need for exchange and cooperation within the bio-based economy is even higher than usual. Politicians and companies alike demand a greener economy after the crisis. But what are the best ways to make the chemical and plastic industry more sustainable? What role can and will the bio-based economy play in the future?
The "International Conference on Bio-based Materials" has established itself as one of the most important expert meetings in Europe on the topic of bio-based building blocks and polymers. Given the great need for exchange, we considered it not an option to cancel or postpone the conference. Therefore, nova-Institute has decided to host the conference online this year, after excellent experiences with the online version of the "Conference on Carbon Dioxide as Feedstock for Fuels, Chemistry and Polymers" end of March. The reactions of the participants and speakers were overwhelmingly positive and everyone was delighted at the opportunity for exchange.
nova-Institute is convinced that the "13th International Conference on Bio-based Materials" will be an equally successful online event. The final programme is now online at www.bio-based-conference.com/programme
The ticket for the three-day event will be available for just 395 €. Early registration is recommended as the number of online participants is limited to 500.
You can find all information on the final programme, participants and registration here: www.bio-based-conference.com
nova-Institute would like to acknowledge YNCORIS Industrial Services (DE) for sponsoring the renowned innovation award "Bio-based Material of the Year 2020". The Finnish companies NESTE and UPM support the conference as Gold Sponsors, CLIB (DE) supports the event as premium partner.
Source
Supplier
Cluster Industrielle Biotechnologie e.V. (CLIB2021)
Neste Germany GmbH & Renewable and circular polymers and chemicals
nova-Institut GmbH
UPM Biofore House
YNCORIS

Share
Renewable Carbon News – Daily Newsletter
Subscribe to our daily email newsletter – the world's leading newsletter on renewable materials and chemicals