Lara Dammer is living proof that you can become part of nova's management team even if you don't have a beard, contrary to wide-held beliefs. Having graduated in 2010 from Bonn University with a Master's degree in Political Science, English and History, she spent a year in the Philippines as project assistant in a peacebuilding project. After a few months in business consulting back in Germany, she joined nova's team as scientific staff in 2012 and was promoted to Head of Department in January 2016.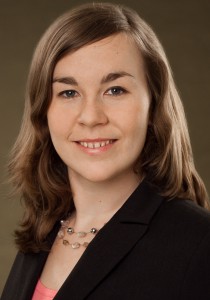 At nova-Institute, Lara is an expert for all things related to policy and strategy for a bio-based and CO2-based economy. Her main topics of work are the level playing field for a bioeconomy; renewable energy and agricultural policies; standardisation of bio-based products; labelling, communication and dissemination; cascading use; public procurement and data collection frameworks. She is an active member of working groups of CEN/TC 411 on bio-based products as well as the Commission's Expert Group on Bio-based Products. As of 2016, she will also be an expert consulting on the Horizon 2020 framework on 'Societal Challenge 2'.
Lara is currently involved in several EU projects:
Her publications include:
Carus, M., L. Dammer (2013): "Industry Report: Food or Non-Food: Which Agricultural Feedstocks Are Best for Industrial Uses?"; Industrial Biotechnology (Vol. 9, No.4).
Carus, M., L. Dammer, R. Essel, A. Hermann (2014): "nova-Paper #4 on bio-based economy: Proposals for a Reform of the Renewable Energy Directive (RED) to a Renewable Energy and Materials Directive (REMD)"; nova-Institut (ed.).
Carus, M., L. Dammer, R. Essel (2014): "Options for Designing a New Political Framework of the European Bio-based Economy"; European Union Foreign Affairs Journal (EUFAJ) (4).
Dammer, L., M. Carus (2014): "Study on investment climate in biobased industries in the Netherlands"; Study for the Dutch Ministry of Economic Affairs.
Dammer, L., M. Carus, A. Raschka, L. Scholz (2013): "Market Developments of and Opportunities for biobased products and chemicals"; nova-Institut (ed.).
Source
nova-Institut GmbH, 2016-02-03.
Share