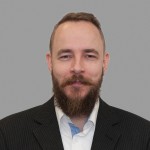 Daniel Steeg started working for nova-Institute during his studies of Telecommunications, discipline Information Processing, at the University of Applied Sciences Cologne and joined nova's team full time in 2005. He was promoted to Head of the IT Department in 2013. His field of expertise covers database development and programming. Daniel speaks several well known languages (Swift, Python, PHP, Java, SQL, C++) as well as some more obscure ones (German, English, French, Spanish).
As Head of the IT Department, Daniel is responsible for nova-Institute's two data centres to ensure sufficient computing power for the more than 100 project related databases and web pages.
Selected projects:
 www.bio-based.eu: presents nova-Institute's events, services and publications including all of nova's papers, studies, reports and proceedings of our conferences
news.bio-based.eu: Bio-based News, the portal for all things bio-based and CO2-based with over 17,000 news and several thousands of visitors each day
www.bio-based.eu/ibib: the leading International Business Directory for the Bio-based Economy
"KMS": nova's own "Conference Management System", developed and programmed by Daniel, which supports nova's conference team by enabling participant registration, credit card validation, automated generation of name plates, table signs and participant lists as well as participant services like surveys and proceedings.
nova's main company database, used for project management, customer relationship management (CRM) and human resource management, using Filemaker Server
nova's IT department is the technological backbone of nova-Institute, supporting each staff member in the way most suitable to their work.
Alongside Daniel Steeg are working:
Hermann Schiefer, nova's system administrator. He's responsible for the maintenance of our data centres as well as for all the work desks and mobile devices of our employees.
Mathias Lederle, our graphic designer, responsible for the design of our web pages and our printed materials. He also coordinates the work of several freelance graphic designers supporting him in special projects.
The IT Department works closely with M.Sc. Niels de Beus, expert for LCA, system analysis and modelling at nova-Institute. Niels studied biotechnology at Wageningen University with a focus on Process Technology and is now supporting nova-Institute's research activities with his extended knowledge in MATLAB, Maple, SPSS, R, Simapro and e!sankey, collecting, analysing and depicting data as well as conducting scenario and sensitivity analysis.
The combination of science and technology enables nova-Institute to not only efficiently process complex data with a variety of programmes and methods but also helps us to get the facts across.
Source
nova-Institut GmbH, 2016-03-29.
Share