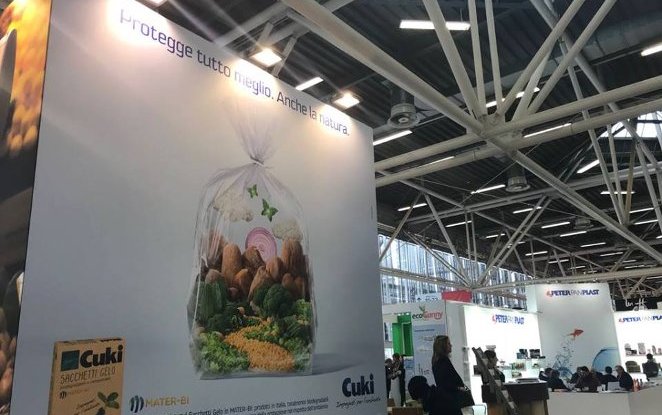 Novamont renewed its participation at Marca, the International Private Label Conference and Exhibition dedicated to the commercial brand, a benchmark for the business community of Distributor Brand products. Marca, the second most important fair in Europe in this sector and one of the largest ones at international level, has reached its fourteenth edition, with over 656 exhibitors and 100 delegations from 19 countries.
At the Novamont booth visitors had the chance to get to know the wide range of biodegradable and compostable products made with MATER-BI. Thanks to their origin from renewable resources and their biodegradability and compostability property, Mater-Bi products improve the quality and quantity of organic waste collection, thus contributing to the reduction of CO2 emissions and to face soil desertification.
For the occasion, Novamont and Cuki organised a conference where the new Cuki line for food preparation and storage "Committed to the environment" was presented. The new "CUKI GELO bag made of Mater-Bi" was launched as the result of an exclusive partnership with Novamont .
Carlo Bertolino, Cuki's sales manager, underlined the importance of this collaboration, resulting from Novamont 's know-how and experience in the field of bio-based, biodegradable and compostable materials and Cuki's willingness to develop sustainable and high-performance products.
Alessandro Ferlito, Novamont 's sales manager, also expressed satisfaction for this partnership, which represents another step towards the circular economy and a "zero organic waste in landfill" approach.
The launch of the new Cuki line also saw the participation of Andrea Di Stefano, Novamont Business Communication and Special Projects Manager, and Stefano Stellini, External Relations Manager of Consorzio Imballaggi Alluminio (Alluminium Packaging Cosortium).
Source
Novamont, press release, 2018-01-18.
Supplier
Share