English version: https://renewable-carbon.eu/news/nova-institutes-winter-special-30-discount-on-all-market-reports/
Das Portfolio der Marktstudien des nova-Instituts deckt alle relevanten Themen der bio- und CO2-basierten Ökonomie ab: Technologien, politische Rahmenbedingungen sowie aktuelle Marktdaten.
Die Inhalte der Studien reichen von Biomasse bis hin zu CO2 als Ausgangsstoff für Polymere, geben einen Gesamtüberblick über bio-basierte Building-Blocks und Polymere aber auch Detaileinblicke in spezifische Building-Blocks wie Lävulinsäure und Bernsteinsäure, sowie umfassende Analysen zu biologischer Abbaubarkeit, Richtlinien, Normen und Labels für bio-basierte Produkte. Die Markt- und Trendreports wurden von Experten des nova-Instituts in Zusammenarbeit mit international führenden Fachleuten erstellt und zählen zu den verlässlichsten und anerkanntesten Quellen auf dem Markt.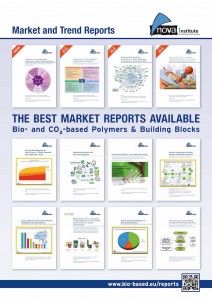 Das nova-Institut bietet Ihnen diese umfassenden und detaillierten Markt- und Trendreports für kurze Zeit zum Vorzugspreis an.
Mit dem Code novaWinSpec19 erhalten Sie 30 % Rabatt auf alle vierzehn verfügbaren Marktberichte.
Das Angebot umfasst die jährlich aktualisierte Studie "Bio-based Building Blocks and Polymers – Global Capacities, Production and Trends 2018 – 2023" sowie die neu veröffentlichten Detailstudien "Levulinic acid – A versatile platform chemical for a variety of market applications – Global market dynamics, demand/supply, trends and market potential" und "Succinic acid: From a promising building block to a slow seller – what will a realistic future market look like?"
Alle Studien finden Sie unter www.bio-based.eu/reports.
Das Winterangebot ist bis zum 10. Januar 2020 gültig.
Source
nova-Institut GmbH, Pressemitteilung, 2019-12-03
Share