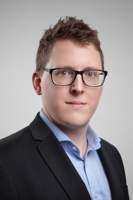 Lars joined the nova team in January 2020 as staff scientist. He works at nova's technology and markets department and is mainly responsible for monitoring technologies and innovations in the sector of chemical recycling. In this context he is writing a technology and market report about the status quo and challenges of chemical recycling. Additionally, he is a member of our quality management team which ensures nova's internal standards and quality management system.
Background and expertise
He finished his bachelor and master of science degree in biology at the university of Bonn. After completing his master degree, he passed his PhD studies in the field of colloid chemistry at the RWTH Aachen in collaboration with a research centre. Beside his academic education he collected several years of industrial experience in the field of project management, science, and technology at companies from different branches including the aerospace sector, crop science, and ecotoxicology. Lars has authored and co-authored several publications during his research career. Furthermore, he holds a certificate as quality management representative from the TÜV Rheinland Akademie GmbH.
Source
Supplier
Share
Renewable Carbon News – Daily Newsletter
Subscribe to our daily email newsletter – the world's leading newsletter on renewable materials and chemicals