Aaron Wilde, multimedia designer (M.A.) and Katharina Raters, expert for Microsoft Office applications, joined nova in December 2018 and work in the communications department.
Within the "Communication" department, nova has its own design and layout team. Although they are not responsible for the typical nova design, they support all nova departments with their creative ideas and skills. Today we would like to introduce them.
Deutsche Fassung: https://renewable-carbon.eu/news/?p=68043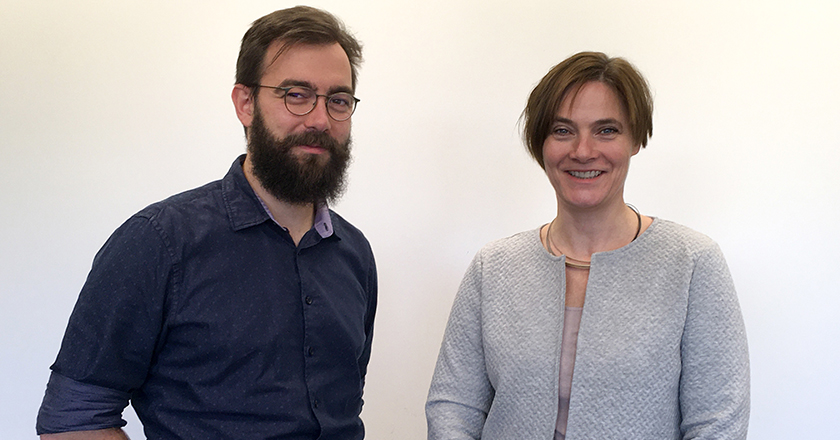 Chef Designer: Aaron Wilde
As chief designer, Aaron coordinates all internal and external graphic designers. Together with the respective specialist departments, he designs information graphics and marketing materials such as logos and layouts for national and international research projects, in which nova is involved with dissemination tasks. In addition, together with the conference team, he develops various conference designs and uses his graphic skills to ensure competent and media-effective public appearances.
Background and Expertise
Aaron studied art and philosophy at the University of Greifswald and received his master's degree in multimedia design at the Burg Giebichenstein University of Art and Design Halle. Before he joined nova, Aaron worked as a freelance designer and tango teacher.
Expert for Microsoft Office: Katharina Raters
At nova, Katharina is responsible for the design and typing of presentation materials in PowerPoint, Excel and Word. In addition, she creates presentation templates for national and international research projects in which nova is involved. Moreover, together with our research experts, she develops user-specific tools in Excel, which are used both internally and externally.
Background and Expertise
Katharina studied African Studies, Ethnology and Geography at the University of Cologne and Harare. During and after her studies she worked in graphic design and PR agencies. After several years with the Kölner Philharmonie and a music publisher, she now supports the nova team with office applications and sets and layouts the scientific publications and presentations.
Source
nova-Institute, press release, 2019-10-31.
Share
Renewable Carbon News – Daily Newsletter
Subscribe to our daily email newsletter – the world's leading newsletter on renewable materials and chemicals