Vynova, a leading European PVC and chlor-alkali company, and Nicoll, European leader in thermoplastic solutions for the building sector and part of Aliaxis Group, have sealed a commercial agreement to use bio-attributed PVC for Nicoll's HOMETECH® silent wastewater evacuation system. This will enable Nicoll to offer a low-carbon solution without any compromise on quality, durability and performance.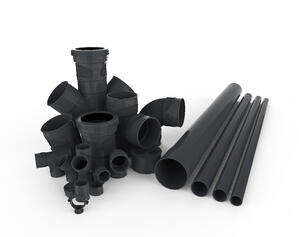 As part of the agreement, Vynova is supplying bio-attributed PVC marketed under its VynoEcoSolutions brand to Nicoll in France. The use of Vynova's bio-attributed PVC is estimated to reduce the carbon footprint of Nicoll HOMETECH® by 60% compared to the conventional end product. As it already incorporates 20% externally recycled plastic and is 100% recyclable itself, Nicoll HOMETECH® will become the first silent evacuation system made with 100% low-carbon PVC.
"We are delighted to work together with an industry leader like Nicoll to reduce the carbon footprint of their PVC pipe range, supporting our mutual sustainability goals and helping the construction sector shift towards a low-carbon future," comments Rudy Miller, Vice President Vinyls Business at Vynova.

"This new bio-attributed resin is a logical next step to further concretize our sustainability ambitions. As a market leader, we set the pace for innovative, sustainable solutions," says Benoît Fabre, Vice President Aliaxis France.
Vynova's bio-attributed PVC is produced from biomass feedstock that does not compete with the food chain and is marketed under the VynoEcoSolutions brand. The VynoEcoSolutions portfolio also includes the company's circular-attributed and renewable PVC ranges, renewable caustic soda as well as its low-carbon potassium derivatives offering.
The bio-circular ethylene which is used as feedstock for Vynova's bio-attributed PVC is supplied by petrochemical company SABIC from its production facilities in Geleen (the Netherlands) and forms part of SABIC's TRUCIRCLETM portfolio for circular solutions.
"Partnerships along the value chain, such as this collaboration with Nicoll and SABIC, are essential to realize the transition towards a more sustainable and circular plastics industry. This cooperation underlines our strong commitment to be an industry leader in that transition," concludes Vynova President Christophe André.
About Vynova
Vynova is a leading European PVC and chlor-alkali company. Our products play a key role in manufacturing numerous industrial products and consumer goods that improve our quality of life. With production sites in five countries and more than 1,275 committed employees, we generate annual sales of 1.3 billion euros.
Established in 2015, Vynova is the chlor-vinyls platform of the International Chemical Investors Group (ICIG). Our product offering comprises multiple grades of suspension PVC (S-PVC), KOH and other potassium derivatives, caustic soda (NaOH) and sodium hypochlorite (NaOCl).
About Aliaxis
Aliaxis is a global leader in fluid management systems for building, infrastructure, industrial and agriculture applications. The company provides communities around the world with sustainable innovative solutions for water and energy, leading the industry in a way that anticipates the rapidly evolving needs of its customers and of society. With a global workforce of 14,000+ employees, Aliaxis offers specific solutions that meet our customers' most demanding needs across the globe. Aliaxis is active through leading local brands and operating in over 40 countries, combining local solutions with global innovation and operational excellence. The company is privately owned, with its global headquarters in Brussels, Belgium.
About Aliaxis France
Part of Aliaxis, Aliaxis France and its Nicoll by Aliaxis brand has been one of the leading European manufacturers of water and energy management products for over 25 years. Specialized in injection and extrusion, Nicoll by Aliaxis combines its high technicality with a very advanced policy of creativity and innovation.
More on www.nicoll.fr
About SABIC
SABIC is a global diversified chemicals company, headquartered in Riyadh, Saudi Arabia. It manufactures on a global scale in the Americas, Europe, Middle East and Asia Pacific, making distinctly different kinds of products: chemicals, commodity and high performance plastics, agri-nutrients and metals.
SABIC supports its customers by identifying and developing opportunities in key end-use applications such as construction, medical devices, packaging, agri-nutrients, electrical and electronics, transportation and clean energy.
SABIC recorded a net profit of SR 23 billion (US$ 6.15 billion) in 2021. Sales revenues for 2021 totaled SR 174 billion (US$ 46.6 billion). Total assets stood at SR 318 billion (US$ 84.9 billion) at the end of 2021. Production in 2021 stood at 58 million metric tons.
The company has more than 31,000 employees worldwide and operates in around 50 countries. Fostering innovation and a spirit of ingenuity, SABIC has 10,090 patents and pending applications, and has significant research resources with innovation hubs in five key geographies – USA, Europe, Middle East, South Asia and North Asia.
Source
Vynova, press release, 2022-07-13.
Supplier
Aliaxis Group
Nicoll
SABIC
Vynova Group

Share