TIPA Sustainable Packaging, a developer and manufacturer of breakthrough bio-based, fully compostable, flexible packaging, and Jindal Films Europe, a global leader in the development and manufacture of specialty packaging and labeling film solutions announced a new partnership agreement at interpack 2017.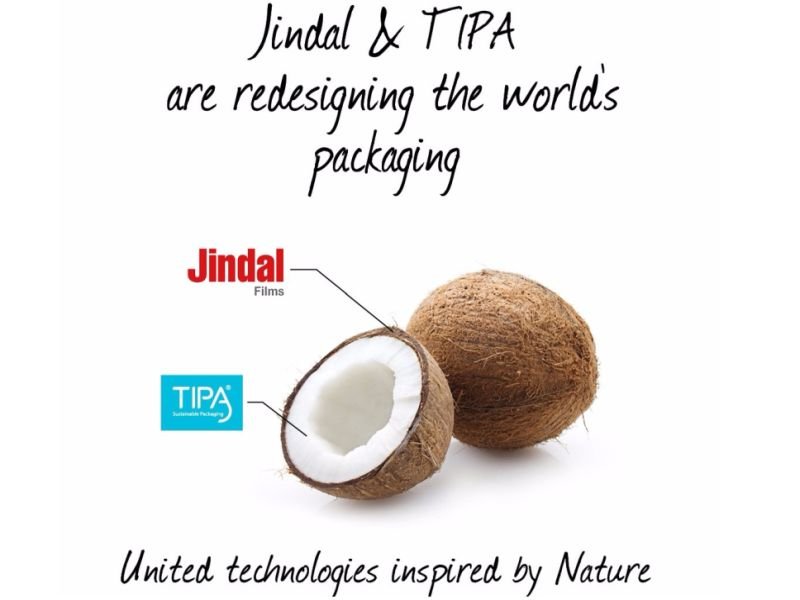 The companies' collaboration will result in the co-development of an original bio-based, compostable high barrier film targeted at the snack food packaging, dairy and meat products, frozen food, coffee and tea markets, and more. With growing concerns over packaging and food waste, TIPA and Jindal Films Europe's partnership will develop new advancements in packaging technology to meet the growing needs of the industry.
Addressing the multi-material and laminate markets, where viable reuse or recycling pathways are currently not available, the collaboration will result in the development of a new, state-of-the-art solution that meets the food packaging industry's needs for a high barrier film, that is both a disposable and organically recyclable end-of-life solution.
"The collaboration between the two technology groups will enable, for the first-time ever, mutual research resulting in new bio-based, compostable high barrier films for a wider range of applications," said Dr. Yifat Bareket, TIPA's CTO. "The collaboration, announced today at Interpack, will ensure innovative, barrier and compostable films, not currently available for multipurpose packaging applications, are brought to market to meet the demand for solutions that are both durable and environmentally-friendly."
"This partnership and joint development is aligned with our long-term strategy to expand with new polymers and film structures, and bring sustainable solutions to the industry," added Dr. Pascale Wautelet, Jindal Films Global Technology Director.
Both companies bring unique expertise and experience to the partnership, enabling a collaborative approach to innovation. TIPA, who recently scooped the Silver award at the internationally renowned Edison Awards for its innovative flexible packaging solutions, will apply its seven years of experience developing high-end, bio-based compostable films. Jindal Films Europe, who recently joined the CEFLEX project (Circular Economy for Flexible Packaging), will contribute its superior specialty technology in coating films to create diverse barrier films suitable for a wide range of market applications.
Source
Bioplastics MAGAZINE, 2017-05-22.
Supplier
Jindal Films Europe
Tipa-corp Ltd.

Share