Chemically speaking, lactic acid is the simplest hydroxyl-carboxylic acid with an asymmetrical carbon atom. Yet simple as this may be, the global market for lactic acid is presently experiencing strong growth, which is mainly due to rising demand from its end-user applications.
These end-user applications mainly comprise industrial applications such as biodegradable polymers, food and beverages segment, and personal care industry and are projected to drive the growth over the next few years.
Lactic acid is used in the production of PLA plastics, which are mainly used in packaging products that comply with the environmental norms. Expansion of the PLA market is projected to fuel growth in the lactic acid market.
PLA has emerged as one of the most popular biodegradable plastics available in the market. Increasing awareness regarding the consequences on the environment as a result of the use of conventional plastic packaging is projected to drive the demand for PLA. PLA finds a significant number of applications in the food packaging industry, especially in frozen foods, ready-to-eat meals, and cutlery.
With the current focus on sustainability and favorable government regulations for green procurement policies increasing being put in place, the polylactic acid market will witness a significant opportunity in packaging applications for consumer goods as well as compostable waste bags, biodegradable mulch films, catering products, film packaging, and rigid packaging.
Compostable waste bags can be used in collecting organic waste, and therefore reduces landfills by improving composting process and compost quality. Biodegradable mulch films have an extensive application in agriculture and reduce the labor and disposable cost (by directly disposing it in field after usage). Catering food products is a large segment of the food service sector and an important application of PLA plastics, which includes trays, cutlery, and cups.
 Annual Polylactic Acid Market Size Analysis, 2012–2019 ($Million)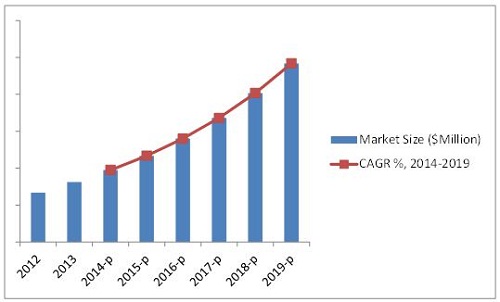 PLA1
According to the report, the markets for lactic acid and polylactic acid are projected to exceed $3,577.5 million and $4,840.1 million by 2019, respectively. Europe is the most dominant market for PLA; while Asia-Pacific, owing to significant domestic demand, is projected to be the fastest-growing market in the next five years.
The report provides qualitative analyses of the leading players in both the markets. It also enumerates the development strategies preferred by the leading market players. The market dynamics in terms of drivers, restraints, opportunities, and challenges are discussed in detail in the report. The key players such as Galactic (Belgium), NatureWorks LLC (U.S), BASF SE (Germany), Purac (Netherlands), and Synbra Technology BV (The Netherlands) and so on have been profiled in this report.
Source
Bioplastics MAGAZINE, 2014-08-21.
Supplier
BASF SE
Galactic
Marketsandmarkets
NatureWorks LLC
PURAC S.A.
Synbra

Share