To accelerate the use of natural materials in construction, today The Green Village, iCircl and the Province of South Holland opened the new living lab Biobased Boulevard. This living lab, part of fieldlab The Green Village on TU Delft Campus, will help to use biobased building materials in construction and renovation on a large scale.
Our construction sector faces the major challenge to build and renovate many homes. Only if we use sustainable building materials can we achieve the climate goals: CO2 neutral and a circular economy in 2050. Natural raw materials such as hemp, bamboo, mycelium or seaweed are an important link: they are renewable, store CO2 and can be grown, harvested, used and reused in an ecologically responsible way. Yet building products made from biobased materials are not yet widely used.
From living lab to building project
The aim of the Biobased Boulevard living lab is to get from pioneering in the living lab to scalable building products such as roof tiles and walls that are actually used in large construction projects.
Marjan Kreijns, director of The Green Village: "Our rule-free field lab is the practical place for entrepreneurs, construction companies, clients, researchers and governments to test, develop and demonstrate bio-based building products and circular innovations. Here we bring all stakeholders together to gain knowledge, exchange and cooperate. This is an essential step to stimulate upscaling and to ultimately ensure biobased building products are used on a large scale."

The province of South Holland and iCircl play an important role in the upscaling ambitions. Gert-Willem van Mourik, transition manager circular and biobased building province of South Holland: "The province supports the initiative at The Green Village, it shows that biobased building is alive and well!"

"We challenge people to bring in their biobased issues," said Nico van Hoogdalem, iCircl.
Three innovations
Three projects have already found their way
1. The Bio-Circular interior wall made with seaweed – BlueBlocks & CircuWall
This is a new, flexible and remountable system for interior walls. The wall consists of stackable frames made of reclaimed wood, into which bio-based insulation mats are incorporated. The frames are covered with sheet material made of seaweed.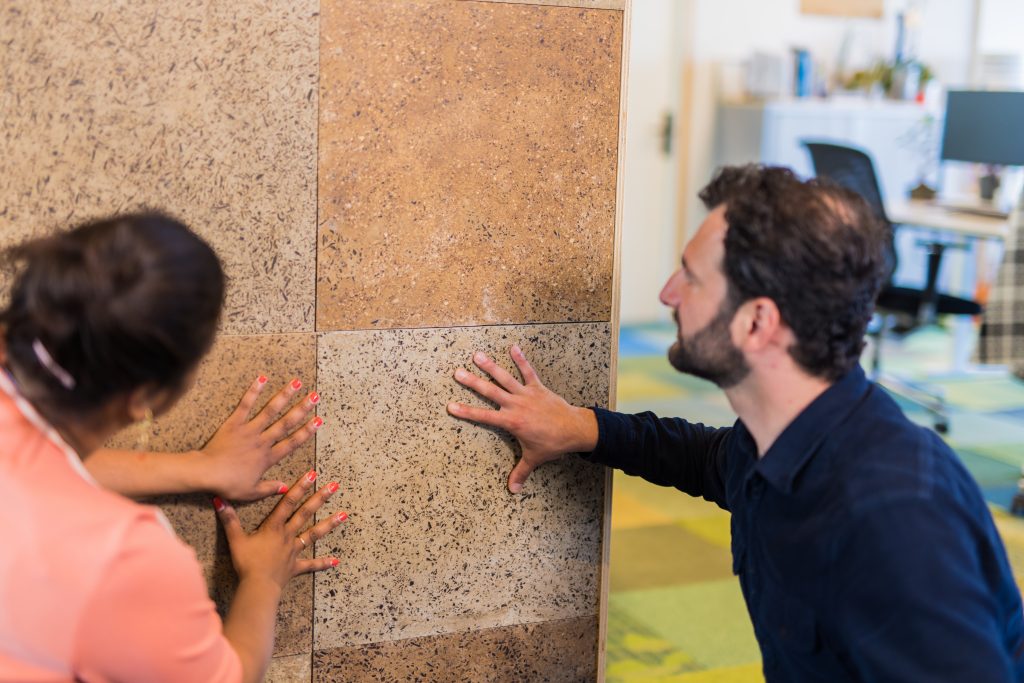 2. Fairm Foam
Veel deuren komen al na vijf jaar op de afvalstapel en bevatten toxische lijmen. Fairm maakt een deurvulling van bio-composiet, bestaand uit mycelium en regionale vezelgewassen zoals stro, hennep of olifantsgras. De deurvulling is volledig natuurlijk, composteerbaar, licht van gewicht en geluidswerend.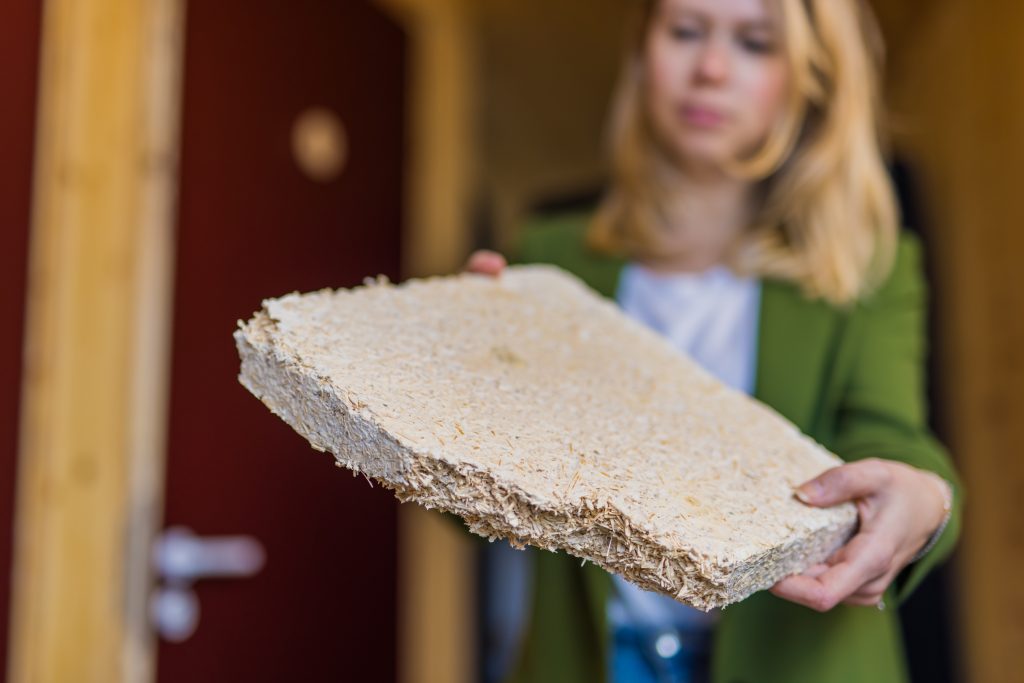 3. Wool call booth – The Dutch Wool Collective
The Hollands Wol Collectief makes designer felt from raw wool to cover call booths. Sheep's wool is considered waste in the Netherlands, for which you have to pay to dispose of it. However, wool has excellent acoustic characteristics. That makes it suitable as insulation material in call booths and conference rooms.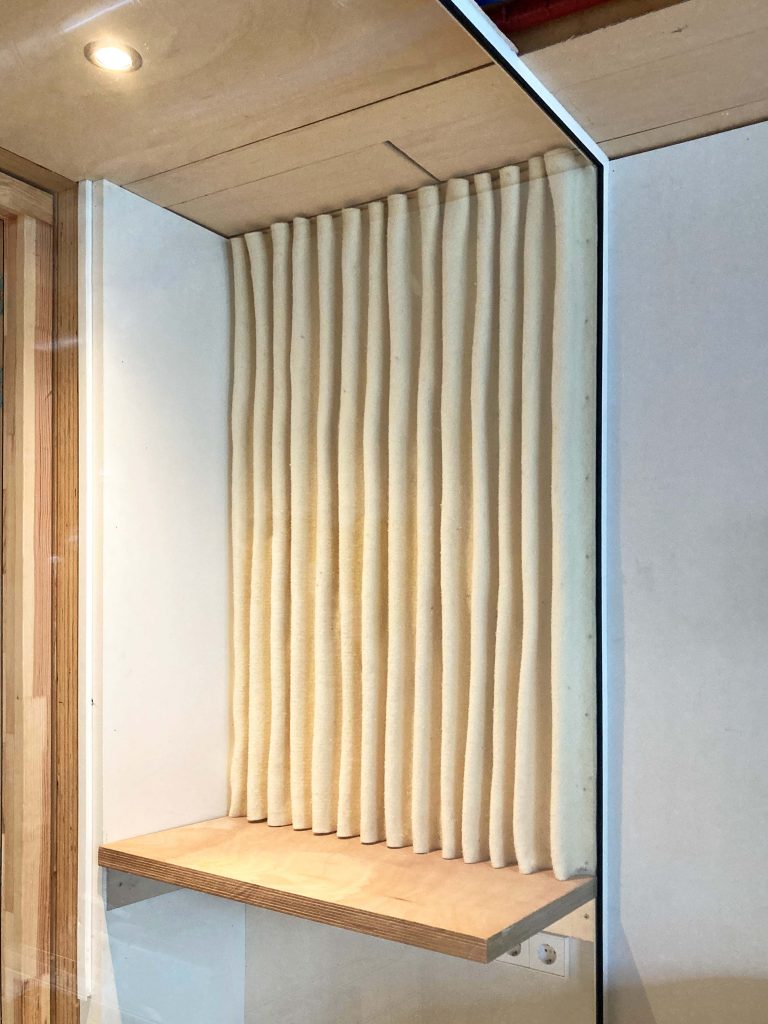 About The Green Village
At The Green Village, knowledge institutions, companies, governments and citizens together research, experiment, validate and demonstrate their sustainable innovations. It is an open-air laboratory on the TU Delft Campus with a focus on the built environment, where testing takes place at district, street and building level. In our field lab people live, work and learn. With access to TU Delft's innovation ecosystem, science is literally around the corner. There are currently more than 60 innovations active in our field alab nd numerous more in development. The team at The Green Village helps projects to quickly reach their goal and to scale up their innovations in buildings, neighborhoods and cities. This is how we accelerate the transition to a more sustainable world.
Source
TU Delft, press release, 2023-06-13.
Supplier
Biobased Boulevard
iCircl
Provincie Zuid Holland - Province of South Holland
The Green Village
TU Delft

Share
Renewable Carbon News – Daily Newsletter
Subscribe to our daily email newsletter – the world's leading newsletter on renewable materials and chemicals