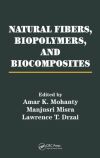 Price excluding VAT (GBP) £ 85.00 (Approx US$ 153, EUR€ 128)
Price including VAT (GBP) £ 85.00
REFERENCE CRC105
PRODUCT TYPE Book
ISBN 084931741X
AUTHOR Amar K Mohanty, Manjusri Misra and Lawrence T Drzal
FORMAT 896 pages
PUBLISHER CRC Press, April 2005

New Book on Natural Fibers:  
Offers a historical context to the development of both petroleum-based and biobased/biodegradable composites
Integrates market data over time that factor in manufacturing, disposal, and consumption
Reveals the latest developments in automotive, packaging, and building applications, wood-composites applications, and issues of adhesion
Suggests cost-effective, economically competitive biocomposites formulations and designs that attain sustainability and performance needs
Includes a chapter on surface modification of natural fibers
Natural/Biofiber composites are emerging as a viable alternative to glass fiber composites, particularly in automotive, packaging, building, and consumer product industries, and becoming one of the fastest growing additives for thermoplastics. Natural Fibers, Biopolymers, and Biocomposites provides a clear understanding of the present state and the growing utility of biocomposites.
Including contributions from experts on biobased materials, the book defines biocomposites and discusses the combination of fibers such as flax, jute, bamboo, pineapple leaf and oil palm fibers, kenaf, and industrial hemp with polymer matrices from both non-renewable and renewable resources. The authors also discuss the chemical nature, testing, biological synthesis, and properties of natural fibers in comparison to traditional materials as well as their cumulative properties when combined with various polymers to produce composite materials that are competitive with synthetic composites.
Natural Fibers, Biopolymers, and Biocomposites explains the rise of petrochemical and plastic products, the problems associated in their disposal, and how biopolymers offer a realistic solution to these problems. It analyzes the varying degrees biodegradability in biobased polymers depending on their composition and structure as well as the environment in which they are placed. Subsequent chapters discuss the advantages and applications of biodegradable polymers derived from starch and cellulose, soybeans, and even from renewable resources and petroleum. The authors conclude with recent trends and opportunities for the future use of biocomposites as alternatives to petroleum-based composites.
The only source available today that focuses on biobased materials, Natural Fibers, Biopolymers, and Biocomposites integrates the principles of sustainability, industrial ecology, eco-efficiency, and green chemistry and engineering into the development of the next generation of materials, products, and processes.
You may also be interested in…
Source
NetComposites.com July 12, 2005.
Share