NEC today announced a breakthrough in the scratch resistance of its "Urushi black" tone bioplastic (*1) that resembles traditional craft Japanese lacquerware. The bioplastic has been developed in collaboration with Dr. Yutaro Shimode, a renowned Japanese lacquerware artist who is a professor of Kyoto Sangyo University and is a third-generation president of the Shimode makie-studio. Moreover, maki-e style printing has been developed, which enables high-level reproduction of elaborate, three-dimensional maki-e (*2) drawn on the surface of lacquerware.
NEC has an accomplished history of developing bioplastics with plants as raw materials, which helps to reduce CO₂ emissions that contribute to global warming. NEC's "Urushi black" tone bioplastic in particular has attracted great interest, and in order to promote the practical use of this bioplastic, high scratch resistance and greater decorativeness are expected.
As part of this, NEC developed a compound technology of additives that prevents scratching, even after repeated rubbing with cloth or paper, and maintains the optical characteristics of "Urushi black." With this technology, one of the highest levels of scratch resistance has been achieved among plastics used for decorative purposes. Further, digital image processing has been applied based on elaborate, three-dimensional, first-class maki-e drawn by Dr. Shimode. This is in addition to ink composition, coloring components, and printing conditions that have been optimized in cooperation with a printing manufacturer that excels at special printing. Through these processes, NEC has succeeded in advanced maki-e style printing that enables near faithful reproduction of the actual works.
"In the future, NEC aims to collaborate with resin material manufacturers to promote the practical use of this material in durable products and luxury commodities that contribute to a decorative atmosphere and environmental friendliness," said Mr. Soichi Tsumura, General Manager, IoT Device Research Laboratories, NEC Corporation.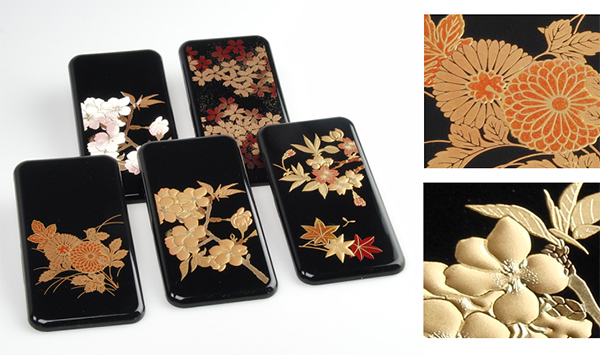 Notes
*1Press release; August 17, 2016
NEC develops non-edible-plant-based bioplastic featuring the elegance of traditional Japanese lacquerware
http://www.nec.com/en/press/201608/global_20160817_01.html
*2Maki-e: A traditional Japanese craft. A picture drawn with a brush on the surface of lacquerware that is coated with lacquer and then polished.
About NEC Corporation
NEC Corporation is a leader in the integration of IT and network technologies that benefit businesses and people around the world. By providing a combination of products and solutions that cross utilize the company's experience and global resources, NEC's advanced technologies meet the complex and ever-changing needs of its customers. NEC brings more than 100 years of expertise in technological innovation to empower people, businesses and society.  For more information, visit NEC at http://www.nec.com.
The NEC Group globally provides "Solutions for Society" that promote the safety, security, efficiency and equality of society. Under the company's corporate message of "Orchestrating a brighter world," NEC aims to help solve a wide range of challenging issues and to create new social value for the changing world of tomorrow.
Source
NEC Corporation, press release, 2018-02-06.
Supplier
Japan Science and Technology Agency (JST)
NEC Corporation

Share