There is a scientific consensus that humans are affecting the global environment, for this reason, we need to minimize the environmental impact associated with the consumption of a product or service. Our society has the urgent obligation to pursue a socially fair economic growth while reducing pollution and harm to the environment.
The European Organization of the Sawmill Industry (EOS) believes that the sawmill industry lies at the heart of the circular bioeconomy providing a sustainable and carbon neutral product to be used in the construction sector and as everyday material. Using wood -legally harvested from sustainably managed forests- Europe can achieve several of the objectives presented in the recently adopted "The European Green Deal" and becomes the world's first climate-neutral continent by 2050.
Forests play a variety of roles for society and the ecosystem. In addition to wood production, forests are also important recreation and leisure areas. They contribute towards protecting the environment, biodiversity and the soil as well as acting as a CO2 sink. For these reasons it is essential that forests are protected against natural disturbance such as forest fires and pests. While you may not connect healthy forests with selling wood, they are actually intimately connected. Income from woods can help forest owners to invests in forest sustainable forest management. Scientific studies proved unmanaged forests are often susceptible to disturbances including insects and disease outbreaks and generate a much greater carbon debt if they are combusted during a wildfire, rather than managed forests.
Wood products for a Circular Bioeconomy
The Intergovernmental Panel on Climate Change Report on "climate change, desertification, land degradation, sustainable land management, food security, and greenhouse gas fluxes in terrestrial ecosystems" published in August 2019 states that "Sustainable forest management can maintain or enhance forest carbon stocks, including by transferring carbon to wood products, thus addressing the issue of sink saturation. Where wood carbon is transferred to harvested wood products, these can store carbon over the long-term and can substitute for emissions-intensive materials reducing emissions in other sectors". Considering that more than 90% of the wood utilized by European sawmills is sourced from sustainably-managed European forests, sawnwood products are leading the way in the forest bioeconomy, helping to reduce greenhouse gas emissions and transition Europe to a sustainable carbon neutral economy.
Sawmills operate according to the resource efficiency principle maximising the added value of wood resources without creating any waste. Logs are transformed into sawnwood to be used in construction or in furniture production. Wood residues from sawmill processes can be converted into a broad range of wood-based products including bio-composite materials, bioplastics, textiles and carbon-neutral biofuels.
Providing bio-solutions for a more circular construction sector
The construction sector is facing huge challenges to become more sustainable. Buildings are responsible for approximately 40% of energy consumption and 36% of CO2 emissions in the EU, making them the single largest energy consumer in Europe.
A new approach is needed: buildings have to be seen as "banks of environmentally friendly materials", not in the old-fashioned linear way: extraction-construction-use-demolition-waste. Wood is the only renewable carbon neutral construction material. Wood contributes to the circular bioeconomy in three ways:
It substitutes energy-intensive materials
It stores carbon throughout its lifecycle
It has energy-efficiency benefits
There is scientific evidence that a wood-based construction is responsible for a lower climate impact by 40–50% regardless of the carbon storage effect.
The European Sawmill Industry in numbers
The European sawmill industry, according to the latest available information, comprises around 35,000 enterprises which employ around 250,000 people across Europe. Most of these enterprises are microenterprises (1–9 full time employees – FTEs – according to the EU classification), while large enterprises (more than 250 FTEs) are not many but play an important role, particularly when it comes to innovation. The sector is responsible for a total production value of more than EUR 36 billion.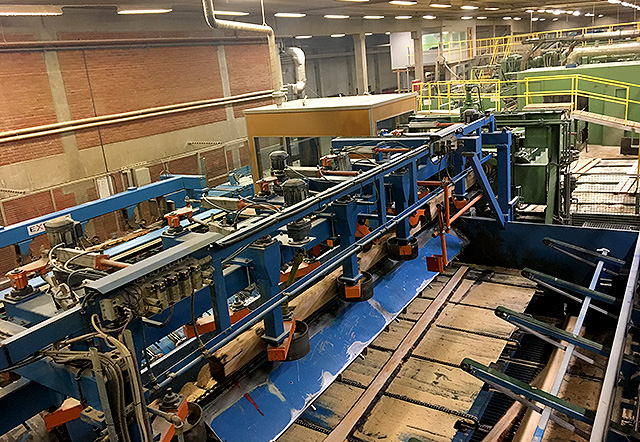 European sawmills manufacture sawn boards, timber frames, glulam, decking, flooring, joinery, fencing and several other wood products. The European sawmill industry is a traditional sector, strongly anchored to local territories. At the same time, it is also a forward-looking sector, deeply entangled in global trade dynamics. Around 25–28% of total sales of sawnwood (the chief product of sawmills) is made up by export to non-European countries. The main markets include large East Asian markets (chiefly China and Japan, but a growing share of European sawnwood is exported to other South-East Asian countries), Middle East and North Africa, and the United States.
The European sawmill industry comprises two sectors – the softwood sector, and the hardwood sector – which are characterized by different market dynamics.
The production of softwood (which is 90% of European sawnwood production) has been growing healthily over the last few decades by a pace overall similar to the general GDP growth. The softwood sector is very much connected to the performance of the construction sector and is benefiting from exports to overseas markets, engineered wood developments, consumer preferences, higher share of wood as a building material.
The production of hardwood (the remaining 10% of European sawnwood production) is instead stagnating for some decades, for many reasons, including increased price sensitivity of consumers, raw material challenges (export outside Europe of good quality logs), relative lack of innovation.
The coming decade will be an interesting one for the industry.
Opportunities abound:
The increased societal pressure to decarbonize the economy offers an opportunity to wood products to become more and more products of choice. Renewable, sustainable products, like wood products, will displace non-renewable and energy-intensive products, and demand is expected to grow as a result. In particular, engineered wood products such as glulam and CLT are becoming more and more popular in the construction market. Also, per capita consumption of sawnwood in China and India is still extremely low, so there is a lot of potential in high-growth markets.
However, there are also threats:
Over the last few years, hot and dry summers have caused a dramatic increase in calamity-damaged logs in Central Europe (heat, drought, bark-beetle attacks) which have upended the market at European level. The European Forest Institute predicts a six-fold increase in bark-beetle attacks in the decade 2021–2030 as compared to the period 1970–2010, which is a concern for the industry: securing the long-term health of forests is vital for the sawmill industry, the first processor of raw materials in the forest-based sector. The European forest composition will change, with a growing share of hardwood species, which are on average more resistant to climate change.
About the author
In 2015, Silvia Melegari has been appointed as the Secretary General of the European Organisation of the Sawmill Industry (EOS).
Having concluded her studies at the Law University in Modena with a specialisation in political relations between States and Catholic Church, Mrs Melegari went on to obtain a University Master's Degree in Advanced European Studies at the European College of Parma. Her dissertation dealt withcompetition law: "The doctrine of the ECJ on the distinction between the existence (and what is part of IPR) and the exercise plays out in Microsoft".
Before joining EOS, Mrs Melegari worked for the European Panel Federation (EPF), where she was holding the position of Environment & Research Adviser. Overall, she has an extensive experience in the promotion of wood as environmental and sustainable material and in European affairs & correlated advocacy actions.
In the past years Mrs Melegari has been nominated expert for the European Economic and Social Committee on the following opinions:
Contribution of the woodworking sector to the carbon balance.
Opportunities and challenges for a more competitive European woodworking and furniture sectors.
Informative Report on the Europe's woodworking competitiveness factors.
Silvia Melegari is mother of two young boys. She loves skiing and hiking.
Author
Silvia Melegari (EOS)
Source
NC Partnering Newsletter 01/2020, 2020-01.
Supplier
EOS European Organization of the Sawmill Industry
NC Partnering Ltd

Share