Mitsubishi Chemical Corporation (MCC; Head office: Chiyoda-ku, Tokyo; President: Hiroaki Ishizuka) has signed an agreement with Faurecia (Head office: Paris, France; CEO:Yann Delabrière) regarding joint research and development of bioplastics used in automotive interior parts. Under this agreement, we will pursue development of a tailor-made biomass poly-butylene succinate (PBS) that is suitable for automotive interior parts by 2014.
Faurecia is the world's sixth-largest automotive equipment supplier in consolidated net sales and has the world's leading technologies in automotive interior systems. The company led the way with initiatives on the European automotive industry's environmental-friendly policies, with its strategic initiative "Bio Attitude" to improve Life Cycle Assessment. Especially, Faurecia aims to use alternative biomass bioplastics in most interior parts.
MCC produces and markets PBS "GS Pla™", a type of bioplastic, with advanced process technologies developed in the production of petrochemical products and a broad range of applied technologies based on diversified lineup of high-performance polymers. We also develop a biomass PBS using biomass succinic acid as the raw material, and strive to build a powerful position in the PBS field with our portfolio of important patents. Therefore, MCC has formed a joint venture company with PTT Public Company Limited (PTT; Head office: Chatuchak, Thailand; CEO: Pailin Chuchottaworn) with each company holding 50%. The joint venture, PTT MCC Biochem Company Limited (PTTMCC; Head office: Bangkok Thailand; Managing Director: Worawat Pitayasiri), will build a PBS production facility with an annual production capacity of 20,000 tons in Thailand, targeting commencement of production by 2015.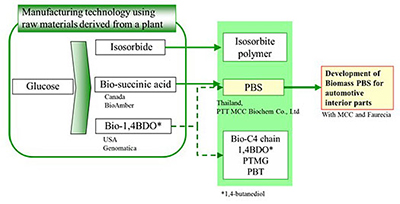 About MCC's Sustainable Resource Business
Where succinic acid is concerned, MCC and PTTMCC have tied up with BioAmber Inc. (Head office: Montreal, Canada; CEO: Jean Francois Huc), which pioneered the production of biomass succinic acid, with the aim of developing an even more efficient production process. The PBS production facility, which is scheduled to go on line in 2015 with an annual production of 20,000 tons, will use biomass succinic acid as raw material.
The Mitsubishi Chemical Holdings Group, in which MCC is one of four operating companies, set a target to switch about 20% of current petrochemical consumption to biomass alternatives by 2025. Now, the agreement with Faurecia to jointly research and develop bioplastics is a major step towards full-scale practical applications of bioplastics in the automotive industry, further driving us forward in the sustainable resource business.
Source
Mitsubishi Chemical Corporation, press release, 2012-11-05.
Supplier
BioAmber Inc.
Faurecia
Mitsubishi Chemical
PTT Global Chemical Public Company Limited

Share