NatureWorks and Metalvuoto announced today a new generation of high barrier Ingeo based flexible substrates designed to keep processed foods fresh on store shelves. While Ingeo film has been used for years in fresh food packaging, this is the first application for longer shelf life foods that are increasingly packaged in flat, stand up, or squared bottom pouches.
The introduction comes in response to a strong interest from the flexible packaging market in packaging simplification, with brands looking to move from complex multilayer laminates to simpler packaging solutions without compromising shelf life. The Metalvuoto film allows using a two-layer pouch with performance matching that of three-layer pouches.
Gianni Costanzo, Metalvuoto Executive Director, explained, "Until now, the flexible packaging industry has grown up around the use of multi-material laminates because no one material was able to provide multiple functionality. For example, brand owners often use an aluminum layer for barrier, a PET layer for external aesthetics, and an internal PE layer for heat-seal ability. Now, we have used the Metalvuoto Oxaqua coating technology with an Ingeo base film to replace two layers of different materials with one layer that simultaneously provides excellent barrier and heat-seal ability."
The new film, which Metalvuoto terms "Ingeo Propylester©", has barrier properties of less than 0.75 cc/m2/24hr for oxygen and 2.5 g/m2/24hr for water vapor1. This provides a significantly better oxygen barrier than metallized biaxially oriented polypropylene (BOPP). Barrier performance is compared in the figure below against a range of materials normally considered for use in flexible packaging markets.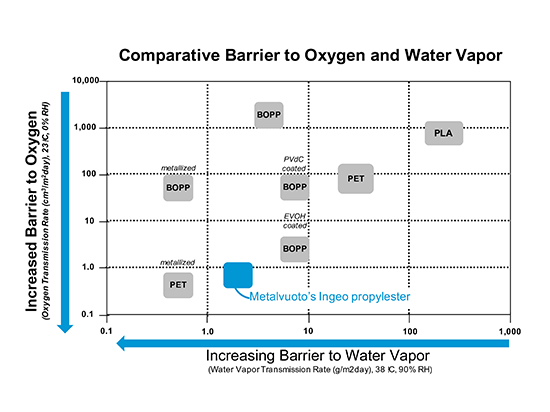 Metalvuoto's Ingeo based film provides good seal strength (>80 g/cm2), eliminating the need for an additional sealant layer and enabling a structural package simplification. Costanzo said that Metalvuoto expects strong interest from the market in two-layer structures in which the Ingeo and Oxaqua biocoating technology are combined with paper to provide a fully biobased performance package at a cost competitive with current three-layer structures.
Ingeo Propylester is well suited for food packaging in both horizontal and vertical form-fill-seal applications, and has demonstrated good process ability. In testing on pouch making machines, 30 to 40 units per minute were produced, depending on the type of Forest Stewardship Council (FSC) certified paper pouch – flat, stand up, or square bottom.
Metalvuoto will give a presentation on the new possibilities this technology offers for the pouch market at Innovation Takes Root, the global Ingeo users' forum, March 30 – April 1 in Orlando, Florida.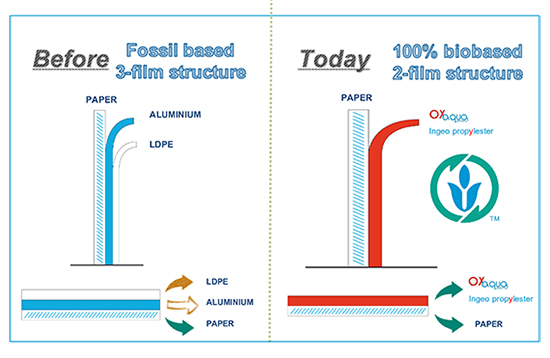 For more information on high barrier performance film, call Metalvuoto at +39-039-627831 or write to info@metalvuoto.it.
(1) ASTM F1297 @ 23 C and 50% RH and ASTM F1249 @ 38 C and 90% RH respectively for OTR and MVTR.
About Metalvuoto
Metalvuoto was founded in the early 1970s. The company began with the metallization of plastic films intended both for food packaging and for the consumer electronics market. Metalvuoto's metallized films provide high gas, aroma, and water vapor barriers, which help to preserve the prolonged organoleptic properties of packaged foods, thus increasing the products' shelf life. www.metalvuoto.it
About NatureWorks
NatureWorks LLC is a company dedicated to meeting the world's needs today without compromising the earth's ability to meet the needs of tomorrow. NatureWorks LLC is the first company to offer a family of commercially available, naturally advanced low-carbon-footprint Ingeo™ lactides and biopolymers derived from abundant local resources with performance and economics that compete with oil-based intermediates, plastics, and fibers, and provide brand owners new cradle-to-cradle options after the use of their products. NatureWorks is jointly owned by Thailand's largest chemical producer, PTT Global Chemical, and Cargill, which provides food, agriculture, financial and industrial products and services to the world.
Source
NatureWorks, press release, 2016-05-17.
Supplier
Share