Patagonia, the environmentally aware manufacturer of outdoor clothing and gear who pioneered the use of, among other things, organic cotton, recycled nylon, polyester and wool, has now also invested in a recycling project that involves the re-use of fishing nets.
A start-up company called Bureo Inc has established a fishing net collection and recycling program along the coast of Chile – transforming the waste into sustainable skateboard decks.
David Stover, Ben Kneppers and Kevin Ahearn, the three friends who founded Bureo – the name comes from the language of the Mapuche, the native Chileans, and means ´the waves'- elaborate their choice of name: "Just as a wave originates from a disturbance of wind along the ocean surface, Bureo is starting with a small change in an ocean of plastic. Through time and energy, the waves of Bureo will develop the force required to cause real change."
Bureo was formed to find solutions for the millions of tons of plastic that enter the oceans each year. According to the United Nations, old fishing gear accounts for more than 10% of plastic pollution. Fishing is a global industry and this is a global issue – it leads to major degradation of ocean ecosystems.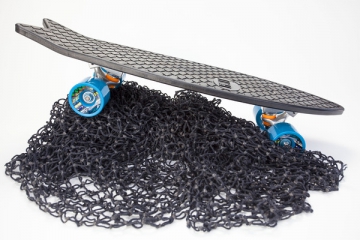 Bureo's innovative skateboards are manufactured in Chile through their program called Bureo skateboard deck "Net Positiva," which provides fisherman with environmentally sound fishing net disposal and Bureo with highly recyclable and durable raw materials. Bureo is also working collaboratively with a wide range of organizations to expand the project into a global fishing net collection coalition with the goal of turning this huge source of plastic pollution into a net benefit.
In a statement released by Patagonia, the company explains the motivation for providing seed financing to this particular initiative. "Bureo is not your typical startup – they've invented an incredible recycling program by rallying the fishing industry in Chile to turn plastic ocean waste into a great product," said Patagonia CEO Rose Marcario. "We're investing in Bureo's vision to scale their business to a global level and make a serious dent in the amount of plastic that gets thrown away in our oceans."
Patagonia's investment comes through its $20 Million & Change fund, launched in 2013 to help innovative, like-minded startups bring about solutions to the environmental crisis and other positive change through business. Or, in the words of Yvon Chouinard, Patagonia's founder, words, to help entrepreneurs and innovators succeed in "working with nature rather than using it up."
The collected material is used to produce fully recycled skateboard decks, each of which use 30 square feet of fishing net that would otherwise end up polluting the ocean. Called the "Minnow" the all decks are made from Bureo's signature recycled fishing net formula, are shaped like a fish with a split tail and feature a gripping scale pattern.
The Eco-Cruiser wheels are made with 30% vegetable oil and 100% recycled cores.
Source
Bioplastics MAGAZINE, 2014-12-09.
Supplier
Share