Lucent Bio, an industry leader in sustainable crop nutrition, proudly announces the patent approval of an innovative biodegradable nutrient delivery technology (US Patent No. 11,691,928). The patented technology fundamentally reimagines the delivery of nutrients, using water-insoluble biopolymers to provide a next-generation alternative for crop nutrition. This technological breakthrough is backed by rigorous scientific research and validation, marking a pioneering stride in the agri-tech industry. c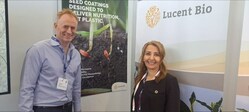 Peter Gross, Chief Technical Officer at Lucent Bio, says, "This patented technology redefines the concept of sustainable farming, by providing a fertilizer solution that is more efficient, environmentally responsible, and providing a better ROI for the farmer. We are proud to have reached this milestone that places Lucent Bio at the forefront of agri-tech fertilizer innovation."
The patented technology will be harnessed through AGT Soileos in Western Canada, a joint venture between Lucent Bio and AGT Foods, leveraging the collective expertise to support farmers in enhancing crop performance while prioritizing the long-term stewardship of natural resources.
Murad Al-Katib, AGT Foods President and CEO shares, "The continued collaboration between AGT and Lucent is flourishing. We are nearing completion of the manufacturing facility in Saskatchewan, which will be the first of several global facilities bringing these smart fertilization solutions to local farmers. This patent is a milestone in the progression of commercializing Soileos," said Murad Al-Katib, President and CEO of AGT Foods.

"At Protein Industries Canada, we recognize the potential of plant-based food and ingredients to help revolutionize the global food system," CEO of Protein Industries Canada Bill Greuel said. "The partnership between Lucent Bio and AGT Foods is a prime example of how Canadian companies, supported by the Global Innovation Cluster program, are collaborating to help solve some of the most pressing issues facing the agriculture and food sector with the commercialization of new products."
Lucent Bio is actively fostering fertilizer innovation with new biopolymer-based seed coatings and controlled-release NPK coatings under development that are plastic-free and biodegradable. These innovations come at a time when governments in the EU and North America are rolling out new regulations to ban microplastics in agriculture. This underscores the company's commitment to providing profitable, sustainable and climate-resilient fertilizer solutions. As the company continues to innovate and lead, it welcomes all interested parties to join them in this journey toward a sustainable future.
About Lucent Bio
Lucent Bio is a thought leader in the sustainable agriculture industry. Our commitment to pioneering innovation has led to the development of patented solutions that prioritize environmental sustainability and profitability. Our newly patented non-water soluble fertilizers are poised to redefine the future of sustainable agriculture practices. For more information, please visit www.LucentBio.com.
About AGT Soileos
AGT Soileos is a collaborative venture between AGT Foods and Lucent Bio, focusing on sustainable crop nutrition solutions. Using co-products from food processing, such as pea, lentil, and oat hulls, AGT Soileos creates eco-friendly nutrients. Soileos, their flagship product, improves crop yields, soil health, and reduces the environmental impact of agriculture. AGT Soileos aims to revolutionize farming, benefiting farmers and the environment. Learn more at www.Soileos.com.
About AGT Food and Ingredients Inc.
AGT Food and Ingredients Inc. (AGT Foods), majority owned by Fairfax Financial Holdings Limited, is a Saskatchewan-based global leader in plant-based proteins and value-added processing of pulses, grains, staple foods and ingredients for export and domestic markets. For more information, please visit www.agtfoods.com.
Source
Lucent BioSciences, press release, 2023-07-10.
Supplier
AGT Foods
Lucent BioSciences
Protein Industries Canada

Share
Renewable Carbon News – Daily Newsletter
Subscribe to our daily email newsletter – the world's leading newsletter on renewable materials and chemicals