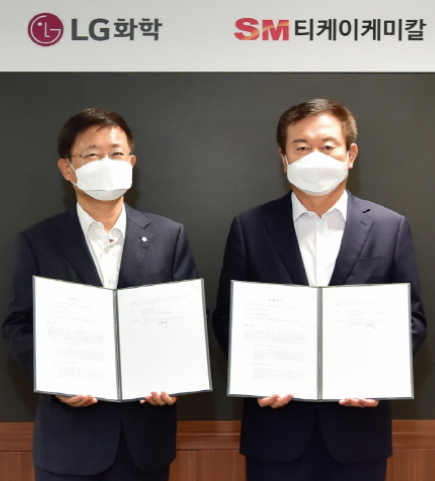 ■ Signed MOU for Developing Eco-friendly Biodegradable Materials and Business Cooperation with TK Chemical
– Plans to construct PBAT (Poly Butylene Adipate-co-Terephthalate) production line and begin operations by the second half of 2022
■ Pursuing various cooperation plans ranging from producing agricultural vinyl and disposable envelope materials to constructing a marine biodegradable material mass production system
■ KUG LAE, NOH (Executive Vice President / President, Petrochemicals Company), "We will pursue omnidirectional collaboration with various companies in the sustainability sector to continuously strengthen our eco-friendly product portfolio"
LG Chem will team up with TK Chemical to produce biodegradable plastics. LG Chem announced that it signed the 'MOU for Eco-friendly Biodegradable Materials (PBAT) and Business Cooperation' with TK Chemical, a subsidiary of the Samla Midas (SM) Group, at the Yeouido LG Twin Towers on September 10.
PBAT (Poly Butylene Adipate-co-Terephthalate) is a petroleum-based synthetic plastic that degrades quickly through the reaction with oxygen, heat, light, and enzymes in nature. As an eco-friendly material that can decompose naturally within six months when buried underground, PBAT is applied in various materials such as agricultural vinyl, disposable envelopes, etc.
TK Chemical is a Korean company specializing in chemical fibers and manufactures polyester (PET), PET-Chip, and spandex. PET is at the core of the company's business and TK Chem is currently leading the domestic market based on differentiated quality.
The two companies plan to sign the main contract within the year and establish a PBAT production line and begin production by the second half of 2022.
While the exact production scale and the others cannot be released due to the agreement between both companies, TK Chemical has a plan in place to begin construction of a PBAT line based on its stable polyester (PET) facility operation capacities and know-hows.
This MOU was made possible because the interests of LG Chem, which is actively switching its business structure to focus on eco-friendly materials, and TK Chemical, which is looking for new growth engines that can go beyond its existing business centering on PET, matched up.
Through this MOU, LG Chem will not only expand its eco-friendly product portfolio, but also accelerate launching of PBAT products through strategic investments to enter the market early on.
LG Chem announced last month that it will start construction of a PBAT plant with an annual production capacity of 50,000 tons within the year and begin full-scaled mass production from 2024.
The two companies will continue discussing expanded cooperation plans for not only establishing a mass production system for eco-friendly biodegradable materials such as marine biodegradable materials (PBSAT) that LG Chem is currently developing, but also across the entire eco-friendly materials industry.
KUG LAE, NOH (Executive Vice President / President, Petrochemicals Company) stated, "We have procured distinguished competitiveness in the biodegradable plastics market through our collaboration with TK Chemical," adding, "We will pursue omnidirectional collaboration with various companies in the sustainability sector to continuously enhance our eco-friendly product portfolio."
TK Chemical CEO Kim Byung-ki commented, "In accordance to the recent trends in which 'ESG management' is dominating the global economic order, we will do our best to increase public value of businesses and contribute to reaching the carbon-neutral goal pursued by the Korean government together with LG Chem, a leading company of eco-friendly materials."
Meanwhile, TK Chemical built a circulating system that collects and recycles plastic (PET) bottles discarded domestically through business agreements with the Ministry of Environment, local governments, and various partners since 2019.
In addition, the company has produced eco-friendly products that contribute to reduce carbon emissions based on its cutting-edge technology and know-how in the field of chemical fibers accumulated over 50 years.
Source
LG Chem, press release, 20221-09-12.
Supplier
Share
Renewable Carbon News – Daily Newsletter
Subscribe to our daily email newsletter – the world's leading newsletter on renewable materials and chemicals