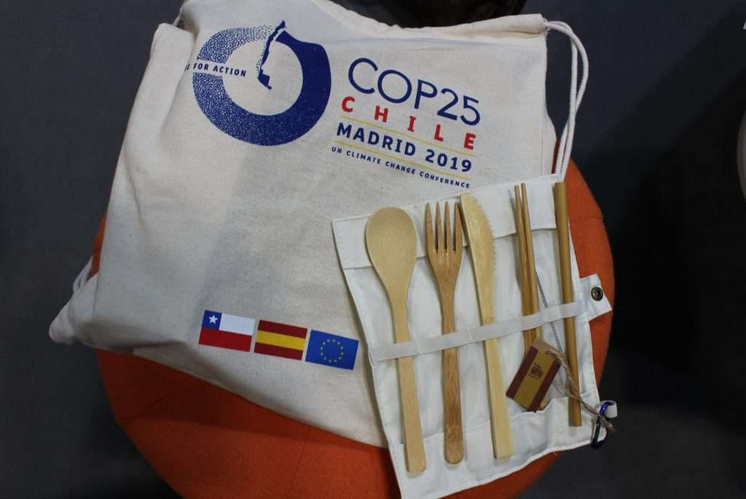 At the UN climate conference in Madrid, bamboo was one of the topics of discussion. Climate experts said it could offer an important biobased alternative to plastic, reports INBAR, the International Bamboo and Rattan Organisation.
Martin Frick, a Senior Director at the UN Framework Convention on Climate Change, said that bamboo can be a "sustainable, biodegradable" alternative to plastics: "Because it grows so fast, and grows back without the need to replant, bamboo offers a readily available source of material. It's also very versatile… We can build houses, bridges, flooring, decking, and even wind turbine blades from bamboo, and use it as a recyclable, renewable alternative to single-use plastic."
Naturally fast-growing and strong, bamboo fibres can be combined with corn starch, or heat pressed, to create products including plates, take-away cartons, crockery, cups and straws. Research by the International Bamboo and Rattan Organisation (INBAR) shows that bamboo plastic alternatives, if produced well, can be 100% biobased and completely biodegradable, and could play a big role in a global bioplastics sector producing around 2 million tonnes a year.
According to Wang Jianzhong, chairman of a China-based company which produces bamboo tableware, the technology for creating these bamboo 'plastics' is well-established: "My company has been producing items for several decades. Our researchers are constantly finding ways to make stronger, more durable products."
Bamboo can also be used to replace more durable items, from chopping boards and houseware to furniture. At Ningbo Shilin Arts & Crafts, a company based in China's mountainous Fujian province, bamboo has been used to make everything from chopping boards to furniture. Ningbo Shilin's general manager, Wang Xiaoqing, says that bamboo "just made sense" as a material to use. "It's local, it's versatile and it creates many products…. I believe bamboo will be widely used in future."
For both companies, one of the main barriers to scaling up bamboo plastics is a lack of awareness. According to Jianzhong, "Many people don't know about bamboo's benefits, so they are sceptical."
This may be about to change. For several years, Ningbo Shilin has supplied bamboo goods to Swedish furniture company IKEA. And Jianzhong's company, Rui Bamboo, is now in discussions with Air China to substitute their plastic cutlery for bamboo. Trinh Thanh Long, a senior expert from the International Bamboo and Rattan Organisation, said that increasing international penalties on plastic mean that bamboo alternatives may soon become more commonplace: "With the EU ban on single-use plastics, and other countries set to follow suit, there is increasing interest in sustainable alternatives. Bamboo can be a low-carbon, recyclable, biobased material for the future – a real 'green gold'."
Source
Bioplastics MAGAZINE, 2019-12-24.
Supplier
IKEA
International Network for Bamboo and Rattan (INBAR)

Share