Gradual ramping up of production capacity and diversification of the markets served
Recruitment of new skills across all operations
Lactips, the French company specialized in producing a soluble plastic with zero environmental trace, is moving into a new industrial development phase with the launch of its project to build its new plant in Saint-Paul-en-Jarez (42), in the Gier Valley. This program, led by Lactips, brings together a number of industrial, financial and local stakeholders, highlighting the commitment to further strengthening France's industrial fabric to serve innovation.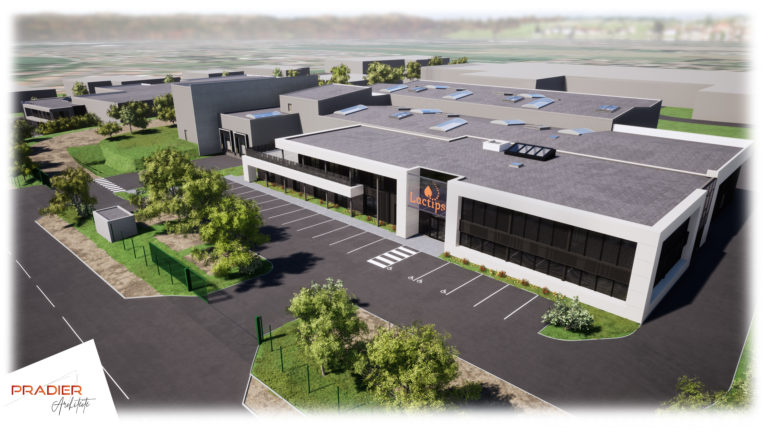 Launched in July 2018, this industrial project marks a major turning point for Lactips, which will now have increased production capacity, in line with its ambitions to serve multiple segments across the vast packaging market. The new site, located in Saint-Paul-en-Jarez, a former coal-production region, will bring back to life a former regional food processing plant, which was shut down in 2018, while adding an extension. Lactips' new 12,000 sq.m site will include a 2,500 sq.m production building and 1,000 sq.m administrative building, with a total floor space of 4,200 sq.m. The renovation and construction work will exceed the standards in force, particularly in terms of materials and energy consumption, as well as the equipment used.
Lactips brings new life to a site closed in 2018 and creates green jobs

The new premises, acquired as part of a €6m real estate project through the creation of a dedicated SCI property investment company (Lactips, NOVIM and BPI Investissements), will house various teams focused on developing Lactips' activities. From the construction phase, Lactips is planning a recruitment campaign for a dozen R&D, commercial operation and production positions in order to put everything in place for the site to be operational as soon as the work is completed. Moving forward, this new industrial site will require around 30 additional staff with diverse profiles to support the development of the first plastic with zero environmental impact.
At the heart of the Gier Valley, the future plant will make it possible to bring back to life France Crème's former whipped cream production unit, closed in 2018 by a foreign industrial firm, and to capitalize on the existing assets and local resources, notably recruiting two of the site's previous employees.
Gradual ramp-up of production capacity supported by major investments
This industrial regeneration, selected for the national "Territoires d'industrie" program, will require nearly €30m to be invested over several years. These investments, particularly in the production facilities, made possible by the recent round of fundraising with the SPI fund, managed by Bpifrance, and Mitsubishi Chemical Holdings Corporation (MCHC), through Diamond Edge Ventures, entering the capital, will enable Lactips to accelerate the commercial development of its innovative technology.
From its launch, planned for 2021, this new plant will be able to produce 3,000 tons of pellets per year (compared with 1,500 currently), while ultimately targeting 10,000 tons per year. Lactips will be able to gradually install up to six production lines and develop its range of solutions for the sustainable soluble packaging and single-use plastic markets, while also ensuring compliance with the specific standards for food packaging. Alongside the administrative and sales offices, the R&D teams will benefit from a laboratory and new equipment, as well as a dedicated development and testing line.
"Lactips was founded with a view to proposing a new way of looking at plastic production, with respect for the environment, providing a solution that is aligned with the needs of both industrial firms and consumers. The steps that we have successfully taken since 2014 have led us to this major industrial turning point. Through our project to create this plant, we are establishing our natural plastic production, based on milk proteins, at a former whipped cream production site. This loop, which is closing, will give us the capabilities needed to develop our solutions for the food packaging market, and will enable us to support regional employment by creating green jobs. Once again, Lactips has united stakeholders from all sides around this program. Specifically, I would like to thank NOVIM and all its directors, Banque des Territoires (Caisse des Dépôts Group) and Bpifrance, as well as Saint-Etienne Métropole, the Loire department and the Auvergne Rhône-Alpes region for their support. We, Lactips, an innovative industrial firm from the Loire region, are proud to launch this ambitious project and promote our unique know-how around the world", confirms Marie-Hélène Gramatikoff, Lactips CEO and co-founder.
About Lactips
Because plastic lasts for hundreds of years in our oceans, causing a major pollution issue, Lactips is manufacturing the first plastic with zero environmental impact, thanks to a pioneering technology enabling it to be produced using a natural raw material. Aligned with sustainable development challenges in the packaging sector and the needs of manufacturers, Lactips pellets are used to produce 100% natural packaging for detergent products. This new material is also suitable for food products.
Created in 2014 by Marie-Hélène Gramatikoff, plastics engineer and business strategy specialist, and Frédéric Prochazka, PhD, lecturer-researcher at Saint-Etienne University, Lactips employs 45 people today and is working to deploy a 2,500 sq.m new production site to further increase its annual capacity to over 3,000 tons.
Source
Lactips, press release, 2020-10-09.
Supplier
BPIFrance
Lactips
Mitsubishi Chemical

Share