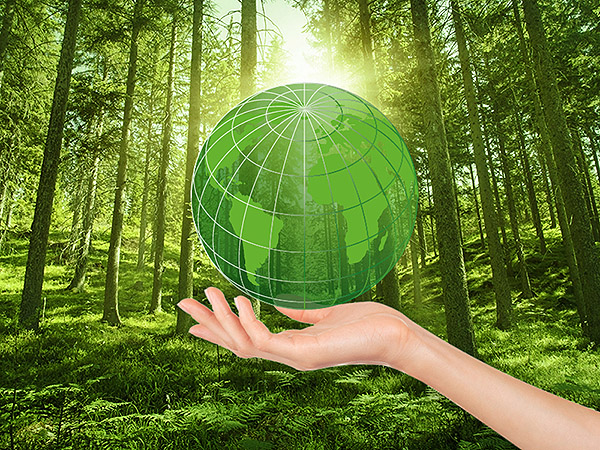 As most of our readers know, NC is a driving force behind the KaiCell Fibers venture; a diverse biorefinery destined for Paltamo in northeastern Finland. Recognising that so much of today's excitement in the forest based bioeconomy tends to focus on recent developments in derived high-value products; Jukka Kantola in this month's Newsletter balances the scales by stressing the fundamental role of pulp production as the basis from which all the other elements flow.
Kraft (sulphate) pulping is frequently dismissed as bulk production with limited applications, but that is a narrow line of thinking to say the least! The modern pulp mill employs state-of-the-art technology and process know-how. The major machine suppliers possess tremendous expertise in support of the ever-increasing range of bio-based products produced or under development by the forest industry.
It is interesting to compare chemical pulping to the petrochemical industry. The latter has long since adapted to the need to continuously develop and reinvent itself. Still, it is a fact that the entire petrochemical industry stands on one single process that is over a hundred years old: cracking. Cracking is what separates the various components contained in crude oil or gas from each other so that they can be further refined. It has given rise to urban-sized ecosystems, where each drop of oil or gas is processed into various commodities like fuels, chemicals, plastics or even textiles. There is no doubt about the importance of the cracking process in providing the platform to cultivate value-added products out of oil and gas. It is simply the heart of the petrochemical industry, and allows the multitude of value-added products and their development.
One can easily see the pulp mill as a similar platform, in which chemical pulp is only the starting point for a highly diversified chain. Pulp mills also directly produce energy in excess, turpentine and tall oil as well as a big variety of feedstock for other chemical industries, like cosmetics, perfumes, food industry aroma compounds, paint industry components, a.s.o. In addition to these, a whole spectrum of new sustainable products such as textile applications, composites and traffic fuels (e.g. ethanol and biogas) are in the pipeline. Pulp mills have enormous potential as growth machines for new bio-products, and it is no longer reasonable to evaluate them as merely single product (pulp) outfits.
Today pulp mills are efficient, economical and environmentally safe units. Their energy efficiency is tuned to the top level, the chemical circuits are closed, main part of the water is recirculated, the cleaning of wastewater and air emissions is of the highest quality, making them fit seamlessly into communities close to nature and captured components are then reused. All the wood material brought through the gate to the mill will be utilized. Pulp mills use their feedstock (wood, fractions and chemical compounds) holistically, which is important for the circular economy – the amount of waste is minimized.
Demand for bio-based products in the world is only increasing due to several reasons. Awareness of consumers is increasing and they are leaning more and more towards renewable consumables. Brand houses are seeking ways out of non-renewable sources. Regulators are setting rules to reduce dependence on fossil-based societies. And these trends are clearly global.
The recently published Intergovernmental Panel on Climate Change report (IPCC 8.10.18) http://www.ipcc.ch/news_and_events/pr_outreach_vietnam_2018.shtml states that fossil raw materials must be abandoned as soon as possible if we want to prevent uncontrolled natural disasters. Today, petrochemicals dominate the world, generating not only greenhouse gas emissions, but also other adverse effects like plastic waste and micro particles. To counter this, we need to find new options in many areas of everyday life. This is clearly good news for pulp mills, existing and under development.
In our opinion, Finland is an optimal location for new pulp mills, especially in softwood. Systematically managed, sustainable and abundant forest resources are still available, as Finland (unlike most highly forested industrialised nations) cuts significantly below annual growth. In the northeastern part of the country, where the KaiCell Fibers's Paltamo mill will be located, only half the potential is currently used.
Reference: 12th inventory of the National Resource Institute Finland (LUKE https://www.luke.fi/uutiset/valtakunnan-metsien-12-inventointi-vmi12-puuvarat-kasvavat-edelleen/)

Fig. 1. Forest cutting potential increase is highest at the area of KaiCell Fibers location. By 2024 cut can be increased by 4,4 M m3 and by 2034 almost 6 M m3. KaiCell Fibers (KCF) will use less than 4 M m3, so feedstock is well in balance. (Source: National resource Institute)
Latest news
October was a month of big news in Bioeconomy framework.
Here are the major ones
Source
NC Partnering Newsletter 10/2018, 2018-10-31.
Supplier
Intergovernmental Panel on Climate Change (IPCC)
KaiCell Fibers Ltd.
Natural Resources Institute Finland
NC Partnering Ltd

Share