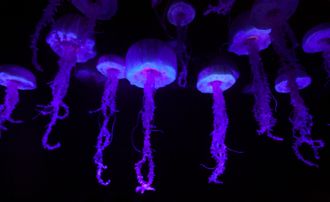 No this is not a joke. Scientists are currently developing diapers and other absorbent products such as tampons and medical sponges that are made of jellyfish. The reason behind this initially insane sounding idea?
Products made of synthetic super-absorbing polymers take hundreds of years to decompose and are a huge problem in landfills all across the world. In 1998 a study was done by the Environmental Protection Agency (EPA) and it was estimated 3.4 million tons of diapers enter the landfills each year in the United States alone.
The other thing reeking havoc on the environment is the populations of jellyfish that have exploded in recent years due to climate change. This problem has gotten so out of hand that it caused a nuclear reactor in Sweden to be shut down after hundreds of them were sucked into a cooling pipe. Scientists predict they'll be one of the more prominent species in the ocean as climate change continues.
With a brilliant and gutsy stroke of ingenuity, a nanotechnology company in Israel called Cine'al Ltd, has developed a material called "Hydromash" which is made by breaking down jellyfish flesh (which has been found to be able to absorb high volumes of water without deteriorating) and adding nanoparticles for antibacterial properties. They are in the works of opening up plants in Korea and South Carolina, where jellyfish populations are thriving and multiplying rapidly.
"There are too many jellyfish in the sea, and too many Pampers in the landfills," said Ofer Du-Nour, Cine'al Ltd's president.
Hydromash certainly seems to be a unique answer to these two very serious problems.
To learn why synthetic polymers are such a problem in our environment check out:
Environmental Problems Caused by Synthetic Polymers
To read about the jellyfish crisis click on this link:
CNN-Jellyfish are Taking Over
To read about Cine'al Ltd's Hydromash, go here:
Israeli Times Turns Jellyfish into Papertowels
Source
Cine'al Ltd, press release, 2014-04-20.
Supplier
United States Environmental Protection Agency (EPA)

Share
Renewable Carbon News – Daily Newsletter
Subscribe to our daily email newsletter – the world's leading newsletter on renewable materials and chemicals