The Italian Renewable Energy Consortium for Research and Demonstration (RE-CORD) signed a Memorandum of Understanding (MoU) with the U.S. Department of Energy's National Renewable Energy Laboratory for coordination on thermochemical conversion of biomass for the production of biofuels and chemicals.
This agreement will constitute a framework for cooperation and coordination that will allow scientists and engineers from both parties to pursue common opportunities in area of mutual interest, such as fast pyrolysis, hydrothermal liquefaction, biofuels and related co-products from biomass thermochemical conversion.
RE-CORD President David Chiaramonti and NREL Associate Laboratory Director Adam Bratis signed the MoU, which has been under negotiation for over six months. The agreement includes provisions to facilitate and regulate the exchanges of information and redaction of joint publications.
The MoU also poses the foundations for a number of possible future steps, including more specific planned R&D programmes, exchange of scientists, engineers and other specialists for participation to workshops, conferences and working sessions, etc. David Chiaramonti (RE-CORD) and Kimberly Magrini (NREL) will oversee, manage and facilitate the implementation of the MoU on behalf of each respective party.
In enim justo, rhoncus ut, imperdiet a, venenatis vitae, justo. Nullam dictum felis eu pede mollis pretium. Integer tincidunt. Cras dapibus. Vivamus elementum semper nisi. Aenean vulputate eleifend tellus. Aenean leo ligula, porttitor eu, consequat vitae, eleifend ac, enim. Aliquam lorem ante, dapibus in, viverra quis, feugiat a, tellus. Phasellus viverra nulla ut metus varius laoreet.
Powered by: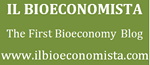 Source
Supplier
Il Bioeconomista
National Renewable Energy Laboratory (NREL)
RE-CORD

Share