More and more women are protagonists of the bioeconomy. This year, as every year, for the International Women's Day, we dedicate a tribute to all women who are making the bioeconomy happen all around the world. With their huge competences and their infinite passion, they are the stars of the world bioeconomy. Our best and warmest wishes to all women.
This is just a partial list.
Ylwa Alwarsdotter, Executive VP Sekab (Sweden)
Iris Aquilina Anderson, leader of the Bioladies Network (UK)
Catia Bastioli, CEO at Novamont (Italy)
Véronique de Bruijn, CEO at Photanol (Netherlands)
Joanna Dupont at EuropaBio (UE)
Carina Håkansson, DG at The Swedish Forest Industries Federation (Sweden)
Sarah Hickingbottom, CEO at BioVale (UK)
Jennifer Holmgren, CEO at Lanzatech (New Zealand/USA)
Virginia Klausmeier, CEO at Sylvatex (USA)
Christine Lang, chairwoman at German Bioeconomy Council (Germany)
Electra Papadopoulou, co-founder Greek Bioeconomy Forum (Greece)
Theodora Retsina, CEO at American Process (USA)
Mariagiovanna Vetere, Global Public Affairs at NatureWorks (USA)
Mari Walls, President and CEO at Natural Resources Institute Finland (LUKE)
Alex Ward, President at Origin Materials (Canada)
Marie Wheat, Industry Economist at USDA BioPreferred Program (USA)
In enim justo, rhoncus ut, imperdiet a, venenatis vitae, justo. Nullam dictum felis eu pede mollis pretium. Integer tincidunt. Cras dapibus. Vivamus elementum semper nisi. Aenean vulputate eleifend tellus. Aenean leo ligula, porttitor eu, consequat vitae, eleifend ac, enim. Aliquam lorem ante, dapibus in, viverra quis, feugiat a, tellus. Phasellus viverra nulla ut metus varius laoreet.
Powered by: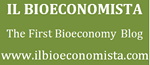 Source
Supplier
BioVale
EuropaBio
LanzaTech Ltd.
NatureWorks LLC
Novamont S.p.A.
Photanol
SEKAB
Swedish Forest Industries Federation
Sylvatex

Share