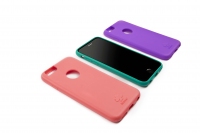 In 2011 the Italian company BIOMOOD Ltd launched the first 100% biodegradable iPhone Cover with the iNature brand. This success is the result of collaboration with the Italian company API SpA, manufacturer of thermoplastic compounds. Thanks to continuous investment and development in the world of bioplastics, API created APINAT BIO, the material used for the production of the Cover.
APINAT BIO is a bioplastic that was developed and patented by API, and what makes it really special is that it will biodegrade in an aerobic environment in full accordance with EN 13432, EN 14995 and ASTM D6400. This makes it particularly well suited to the vision of the iNature Project that was entirely designed to target zero environmental impact with every detail designed and built to be totally biodegradable.
Thanks to the physical and mechanical properties of APINAT BIO, all the basic requirements could be fully satisfied for creating this Cover, in particular the need for a high degree of flexibility and softness to protect the smartphone from bumps and falls, as well as also having a practical, anti-slip surface.
The Cover even comes packaged in eco-friendly material made of recycled paper with water-based dyes.
Collaboration between API and BIOMOOD Ltd continues today and as anticipated, the new iPhone Covers for iPhone 6 and iPhone 6 Plus have been launched on the market.
The perfect combination of Italian design and practical application shows the final consumer that fashion and an environmentally conscious lifestyle can go together perfectly.
Source
API SpA, press release, 2015-09-25.
Supplier
API SpA
Apinat® Bioplastics
iNature.it

Share