In recent years, the increasing demand for renewable and sustainable materials has generated a new interest in plant fibres. The growing importance of sustainable – social, ecological and economic – development of materials and products also contributes to the growing importance of composites made of natural fibres. Significant research and development work has been carried out and implemented in the field of natural fibre-reinforced composites. In the field of natural fibre-reinforced composites, various processing techniques for the production of a wide range of materials are available or under development. The applications range from injection moulded toys for children to high-performance composites in the sports sector or in yacht construction.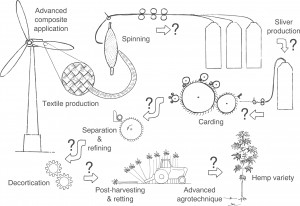 In order to evaluate the potential of hemp fibres for high-performance composites, a research team from Italy (Professor Dr. Stefano Amaducci, Università Cattolica del Sacro Cuore, Piacenza), France (Dr. Alain Bourmaud, Université Bretagne Sud, Lorient and Dr. Johnny Beaugrand, INRAE, Nantes), England (Dr. Darshil U. Shah, University of Cambridge, Cambridge) and Germany (Professor Dr.- Ing. Jörg Müssig, HSB – University of Applied Sciences Bremen) has intensively dealt with the state of research and development and published a comprehensive article on the topic: Transdisciplinary top-down review of hemp fibre composites: From an advanced product design to crop variety selection.
The authors use a top-down approach, starting with the final product of a small wind turbine, to define the product specifications for hemp fibre-reinforced high performance composites. Afterwards, all process steps are critically analysed: from the production of the reinforcement textiles and the yarns to the fibre separation and the agricultural process chain, the microbiology of field retting, the cultivation and the choice of varieties. The aim of the study is to determine the extent to which the current state of knowledge and process engineering is available to use hemp fibres in high-performance composites. Based on this critical evaluation of the state of the art it can be stated that hemp will be found in high-performance composites in the short to medium term. However, there is a need for optimization, especially with regard to the selection of the plant variety, improved post-harvest procedures (retting) and the implementation of more effective fibre extraction techniques in order to obtain consistently high fibre qualities.
Professor Jörg Müssig of the Biomimetic Innovation Centre, The Biological Materials Group at HSB emphasizes that "from our critical top-down review it is obvious that some progress still needs to be made before structural components made of hemp fibre can be successfully manufactured and used on an industrial scale". Current research at the HSB tries to close these gaps for hemp.
Reference
Müssig, J. / Amaducci, S. / Bourmaud, A. / Beaugrand, J. & Shah, D. U. 2020: Transdisciplinary top-down review of hemp fibre composites: From an advanced product design to crop variety selection. In: Composites Part C: Open Access (ISSN 2666-6820), Vol. 2, 2020, p. 100010 .– doi.org/10.1016/j.jcomc.2020.100010
Contact
Prof. Dr.-Ing. Jörg Müssig
HSB – Hochschule Bremen
Faculty 5, Biomimetic Innovation Centre
E-Mail: jmuessig@bionik.hs-bremen.de
Source
University of Bremen, press release, 2020-10-21.
Supplier
INRAE
Università Cattolica del Sacro Cuore
Universität Bremen
Université Bretagne Sud
University of Cambridge (UK)

Share
Renewable Carbon News – Daily Newsletter
Subscribe to our daily email newsletter – the world's leading newsletter on renewable materials and chemicals