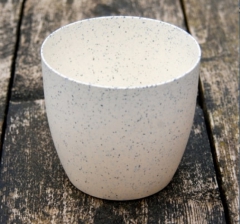 Netherlands-based Growfun produces biodegradable horticultural pots from starch-based bio-based resin produced by Rodenburg Biopolymers in Oosterhout. Offering a sustainable alternative for fossil fuels, the company uses starch obtained from waste from the potato industry.
According to Jan Blankestijn, managing director of Grofun, the company chose to collaborate with Rodenburg Biopolymers because of their expertise in that specific development area.
"Based on their know-how, and in close collaboration with them we can develop a specific and high-quality product," he said.
Growfun is a flexible and innovative company that cooperates with customers and partners working with high-quality plastic products. The company invests considerable time and money in R & D, and, together with the University of Wageningen explores new technologies that they can apply to themes such as the circular economy.
"Innovation plays a major role in both technology and design at Growfun, but only by investing continuously therein can we serve our customers quickly, expertly and professionally."
Growfun's customers are national and international growers, exporters and retailers who demand a flexible, responsive supplier, for whom quality is an absolute given.
Source
Bioplastics MAGAZINE, 2017-10-30.
Supplier
Growfun
Rodenburg Biopolymers B.V.
Wageningen University

Share