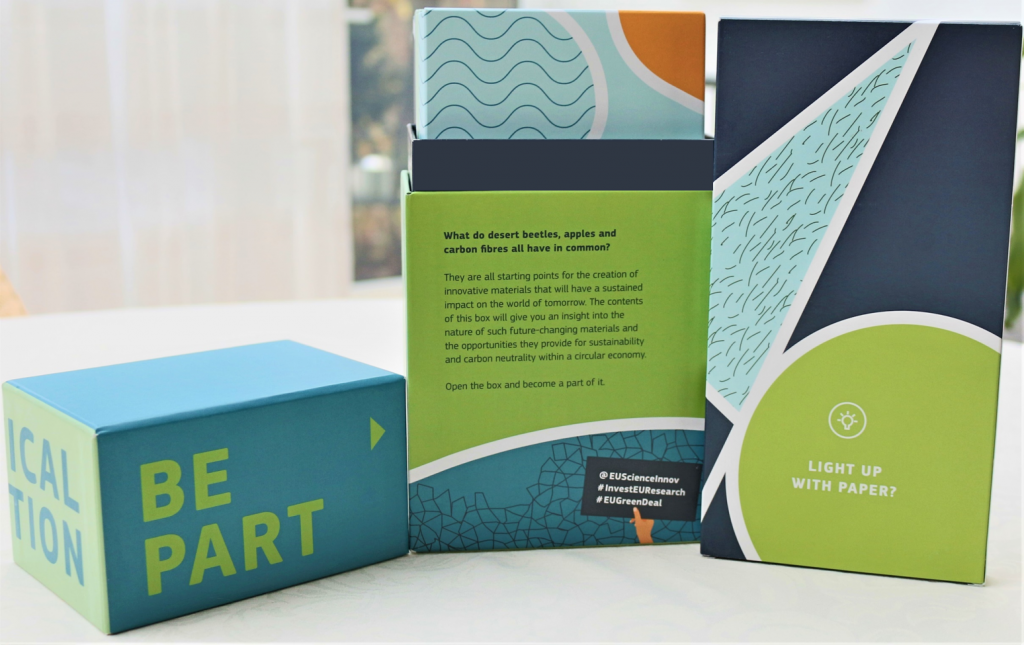 Climate change and environmental degradation are existential threats to Europe and the world. To overcome these challenges, Europe needs a new growth strategy that will transform the Union into a modern, resource-efficient and competitive economy, where
a) no more net greenhouse gas emissions will be released by 2050
b) economic growth is decoupled from the use of resources
c) no one, neither person nor region, is left in the lurch.
The European Green Deal is a roadmap for a sustainable EU economy. This goal is to be achieved by seeing climate and environmental challenges as opportunities in all policy areas and making the transition fair and inclusive for all (https://ec.europa.eu/info/strategy/priorities-2019-2024/european-green-deal_de ).
Green Materials Box
Communication medium to promote ecological material innovations in the context of the European Union's Green Deal
In the course of the far-reaching and future-oriented project of the European Commission, the task was to implement a presentation box for innovations on sustainable materials in the sense of the Green Deal of the European Union with the aim of making the general public aware of the possibilities and the necessity to develop ecological material solutions in the European member states.
The Green Materials Box contains 5 material innovations on sustainable materials, which show in different dimensions the possibilities for an ecological change of our economic and product culture. Alternatives to CO2 intensive materials based on agricultural residues are presented as well as natural insulating materials with a high heat storage capacity. Edible packaging materials show us a way to a plastic-free world and a way to reduce the amount of plastic in the oceans.
Experiments with smart materials based on an electrically conductive carbon fibre paper as well as a textile derived from the armour structure of the Namib Desert beetle for obtaining drinking water from fog in coastal desert regions are intended to introduce and open up an understanding of the possibilities of innovative material sciences to broad social classes.
Of the five material innovations mentioned above, KOHPA® is an ecological product and was designated for the Green Materials Box 2020 by the European Commission in October 2020.
Source
KOHPA, press release, 2020-11.
Supplier
European Commission
European Union
KOHPA® - RESO Oberflächentechnik GmbH

Share
Renewable Carbon News – Daily Newsletter
Subscribe to our daily email newsletter – the world's leading newsletter on renewable materials and chemicals