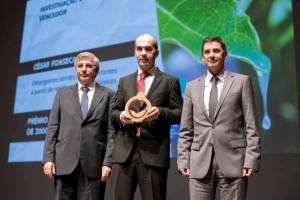 Did you know that, when cleaning your house, you may also be polluting the planet? The detergents that leave everything clean and shiny may also contain major pollutants derived from oil-based products, which have a high level of toxicity. An alternative has been developed by a team comprised of Nuno Faria, Ph.D. (MIT Portugal Alumnus), Frederico Ferreira (MIT Portugal/IST Professor) , and César Fonseca, Ph.D. (former researcher at LNEG and currently Professor at Aalborg University, Denmark). Their "Green Detergents: Biosurfactants from lignocellulosic biomass" have recently won the Jerónimo Martins/Green Project Awards, a prize given by Quercus, the Portuguese Environment Agency (APA), and GCI, to reward and foster sustainable development.
Nuno Faria's Ph.D. thesis undertaken at the MIT Portugal PhD program in Bioengineering at IST, and entitled "Yeast mannosylerythritol lipids from lignocellulose: A novel strategy for the production of jet biofuel", was the basis of another FCT exploratory project, entitled "TAKE-OFF: Novel 'runways' for the bioconversion of lignocellulosics into jet biofuels2," led by César Fonseca and Frederico Ferreira. "TAKE-OFF" aims for the development of new biofuels and bioproducts, such as biosurfactants, from lignocellulosic waste.
More than 90% of commercial surfactants (detergents) are chemically synthetized from non-renewable resources. Most are not biodegradable, and many have a negative environmental impact through the contamination of water. Green detergents present a cleaner alternative for home and industrial use, as well bringing new possibilities to the pharmaceutical and cosmetic industries.
The use of biosurfactants instead of synthetic surfactants has significant advantages with regard to bio-degradability, non-toxicity, mild production conditions, and unique properties. The mannosylerythritol lipids (MEL), which are glycolipids with biosurfactants properties, are produced biologically by gender Pseudozyma yeast from vegetable oils.
The new technology developed by Faria, Ferreira, and Fonseca offers advantages over existing green technology based on the use and biological conversion of vegetable oils. The new technology allows for the use of biomass that does not compete directly with food. It therefore reduces the costs of raw materials and the environmental impact on production of vegetable oils, while allowing for less intensive product purification processes.
The team continues to develop its technology for commercialization. A new FCT project led by IST-ID is scheduled to begin soon, and the research team has established contacts with national and international companies for joint technological development and licensing. The first results are already visible in the team's international patent, and in their several international publications on the research. They have also helped train 2 doctoral and 3 masters students in these exciting discoveries.
Source
EurekAlert!, press release, 2016-01-12.
Supplier
Aalborg University Copenhagen
APA
LNEG
Portuguese Foundation for Science and Technology (FCT)

Share
Renewable Carbon News – Daily Newsletter
Subscribe to our daily email newsletter – the world's leading newsletter on renewable materials and chemicals