Green Biologics Limited (Green Biologics), a UK-based industrial biotechnology company with pilot scale facilities and offices in Columbus, Ohio, has announced a collaboration and planned investment in facilities with Easy Energy Systems Inc (Easy Energy). The collaboration will result in the modification of Easy Energy's ethanol demonstration plant in Emmetsburg, Iowa to produce renewable n-butanol and acetone.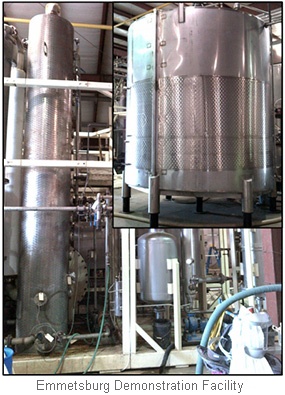 In mid-2012 GBL successfully produced butanol and acetone from corn mash at the Emmetsburg facility in Iowa at a 40,000 liter fermentation scale. "We ran three separate batches in July 2012 which matched results in both total solvent production and n-butanol yields that were achieved in our U.K. laboratories and at our Columbus, Ohio pilot facility," says Sean Sutcliffe, CEO of Green Biologics "From these demonstration runs we have validated fermentation performance at scale meeting our commercial targets."
Mark Gaalswyk, Founder and Chairman of Easy Energy adds, "We're delighted with our collaboration with Green Biologics and the work we have done to date with them. We look forward to building on this excellent working relationship with this commitment they've made to Emmetsburg, allowing us to create together a first-rate renewable butanol demonstration facility"
Sutcliffe notes that the Easy Energy deal provides Green Biologics with significant demonstration capability at a fraction of the cost of a green field demonstration plant. "We plan to make significant investments in feedstock preparation, processing and product storage as well as process control" says Sutcliffe, "but more importantly, we plan to scale our proprietary (patent pending) advanced fermentation process at demonstration scale. In addition the facility will have the capability to allow us to scale and demonstrate the use of cellulosic biomass as a sugar source for renewable butanol production."
In May 2013, Green Biologics successfully demonstrated its advanced fermentation process at pilot scale in Gahanna, Ohio. "This technology capitalizes on the unique characteristics of Green Biologics's advanced biocatalysts and provides a doubling of butanol production productivity compared to existing processes with a modest incremental capital investment," said Patrick Simms, Chief Operating Officer for GBL's North American business. "In less than 12 months, our development teams in the UK and Ohio moved from concept to successful pilot demonstration. We are now scaling to 80,000 liters in Iowa."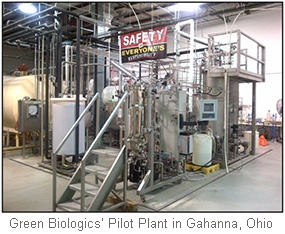 The scale-up work being undertaken in the U.S. complements commercial scale demonstration work already achieved in China. In 2011, Green Biologics partnered with Laihe Rockley Biochemical Ltd. in Songyuan, China and in 2012 produced the world's first commercial scale cellulosic n-butanol from residual corn waste (corn shells, corn cobs and stover). The Chinese commercial trial run was completed in June 2012 at 3.2 million liter fermentation scale in one of three 50,000 tonne/year production units. In Nov 2012, Green Biologics imported 55 tonnes of cellulosic n-butanol to the U.S. and is now marketing the material for chemical applications.
About Green Biologics Limited
Green Biologics is a privately held industrial biotechnology company based in Abingdon, Oxfordshire, UK, with scale-up facilities and offices in Columbus, Ohio, specializing in the manufacture of renewable chemicals and advanced biofuels. The company's core focus is n-butanol, a chemical precursor for paints, coatings, adhesives, inks, plastics, pharmaceuticals, household cleaners and personal care ingredients with global markets exceeding $10 billion. Green Biologics is the global technology leader in renewable n- butanol and has developed advanced fermentation technology to produce renewable chemicals from cellulosic feedstocks such as agricultural and forestry residuals and municipal solid waste. Green Biologics has laboratory and production facilities in the U.K. and the U.S. and operates globally in Europe, North America, China, India and Brazil.
About Easy Energy Systems Inc.
Easy Energy Systems Inc has developed the Modular Energy Production System, or MEPS, for the conversion of waste and other feedstocks into renewable biofuels. Easy Energy designs, manufacturers and sells these units. The company's demonstration facility in Emmetsburg, IA was one of the first to successfully produce cellulosic ethanol from waste paper. Easy Energy is a privately held company with its main offices located in Welcome, MN.
Source
Green Biologics, press release, 2013-07-02.
Supplier
Easy Energy Systems Inc.
Green Biologics
Laihe Rockley Biochemical Ltd.

Share