The new "1st International Conference on Cellulose Fibres", 11 – 12 February 2020, Cologne, Germany has a dedicated focus: Cellulose fibres, the fastest growing fibre group in textiles, the largest investment sector in the bio-based economy and the solution for avoiding microplastics. www.cellulose-fibres.eu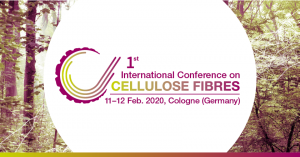 Cellulose fibres are a success story within the textiles market with a cumulated annual growth rate (CAGR) of at least 10% over the last ten years. This makes them the fastest growing fibre group in the textile industry and also the largest investment sector in the bio-based economy worldwide. The high growth rates are driven by the demand for natural fibres (and bottlenecks in cotton), innovative processes that lead to fantastic new fibre properties, the microplastic problem and possible bans for plastic fibres. All these drivers will continue to play a significant role in the future development of the sector. The conference will cover the entire value chain from lignocellulosic feedstocks, over dissolving pulp, cellulose fibres – such as rayon, viscose, modal or lyocell and new developments – to a wide range of applications, woven textiles (clothing) and non-wovens (wipes and technical applications), as well as micro- and nanocellulose for food, cosmetics and pharmaceuticals. All these sectors have significantly gained in dynamics over the last few years.
Many new endeavours are on their way with the target of identifying and developing new technologies and business opportunities for a sustainable bio-based and circular economy. The aim is to gather technology providers and developers, academia and industry, pulp, fibre and equipment suppliers, retailers and textile brands, policy makers and investors to debate recent market dynamics. In this environment, the following questions are particularly exciting and will be in the focus of the conference: What are the recent technologies and market trends? What are the future market dynamics? Who is active and interested in this sector? What are the main challenges to develop the value chains and the market demand? Which ecosystems and partnerships are required to drive innovation according to market needs? How will the political environment continue to develop? What will happen with plastic bans, microplastic avoidance, bio-based vs. fossil feedstocks, and sustainability?
"With regard to the importance of cellulose fibres, it is more than surprisingly that there is no established conference with this focus yet. We would now like to close this gap: For the first time, we will invite and gather all developers, producers and players in the value chain of modern cellulose fibres. We see great international interest in this new conference. We are confident that this conference will be one of the best networking opportunities for this sector." Michael Carus, Managing Director of nova-Institute and initiator of the conference.
Please find the preliminary – and soon final – programme here:
www.cellulose-fibres.eu/programme/
Please book your booth here: www.cellulose-fibres.eu/exhibition-booking/
Please register here: www.cellulose-fibres.eu/registration/
Source
nova-Institut GmbH
Supplier
Share